I may be excited for the NBA season to start Sunday but I have far less patience for the business of the game. I don't care for owners who only see losing profits instead of seeing their role in it or trusting their basketball people to do their part. I don't care for poor GM's who can't evaluate talent and chemistry and contribute to players wanting to go elsewhere.
I don't care for David Stern threatening to ruin the game I love with his power trip. I don't care about people mad at players realizing the power that we gave them and fulfilling Curt Flood's dream to be agents of change instead of being happy to play and make money.
I want to get back to discussing basketball but it feels like after seeing what this lockout is about it feels secondary. I'm gonna try to anyway despite every time I think of David Stern or see the LA Clippers, I know we are watching a league that should be enjoying a great 2010-11 campaign but comes back after a drama summer.
Stern used to be the best commissioner in sports but like all great men of power, they get delusional the longer they hold it. When they get threatened by something powerful (in Stern's case, the Malice at the Palace), they start overreacting to keep that power. Richard III did it, Tony Montana and Michael Corleone too. So did Adolf Hitler and other leaders.
It started with the dress code. Then it led to curbing everyone's enthusiasm after being fouled with handing out technical fouls for the slightest anger instead of just far worse whiners. Now it came to being a bully in the lockout proceedings ("I know where the bodies are buried?"),
something Bryant Gumbel took a justified step further.
With the aid of the owners, he held the league hostage in this lockout without addressing the main concerns. Yes, the players gave $3 billion back but how does that make the league better? When guys are still getting crazy, overpaid deals? When a luxury tax only hints at what could be possible with revenue sharing? So he and the owners bullied the players into a deal knowing that the fans would ultimately hate them if they didn't.
This was all about restoring power, not fairness or competitive balance*. Nowhere was this more evident than Chris Paul being arranged to go (NOT traded) to the Clippers, instead of to the Lakers in a 3-team deal. Instead of respecting a great GM who made his team better and weakened a Western power despite giving them Paul, the owners whined and Stern acting as co-owner of a team killed the trade for "basketball reasons". That's the power move of a desperate man who isn't thinking clear.
*(By the way, the league hasn't had competitive balance in 31 years. Look how many teams have won NBA titles since 1980. The NBA is the only league where half of the teams makes the playoffs. Factor in 3-5 teams that just finish outside and that's 19-21 teams out of 30 who are in playoff contention. By definition, those teams are competitive.)
The Hornets got a younger package from the Clippers (and guys who looked like they were not happy to be there.) The Rockets, who thought they were getting Pau Gasol, look worse. The Lakers looked lost and flustered for the first time in seven years and gave Lamar Odom away for less than they got Gasol for. The Clippers got way more exciting and got their biggest free agent in years.
If this was a genuine move, it'd be earthshaking in its own right. But the earthquake feels artificial. Instead of nature doing her thing, it's a man made quake that could have seismic consequences on the rest of the league, its perception and a lot of other shady instances in league history.
The Decision last year was the creation of the NWO in the WWE. The Chris Paul trade being killed was the
Montreal Screwjob
that made WWE Chairman Vince McMahon go from owner to power player screwing with the system. One was pivotal but ultimately more beneficial for the league despite people mad at LeBron and Chris Bosh. The other was also pivotal but deeper consequences within the league that are dangerous.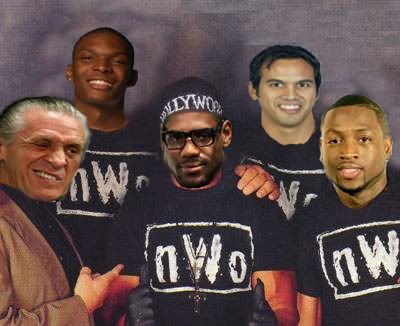 Hate these guys if you will, but David Stern did far more damage to the league than they did.
All that matters now is that the powers that be have showed their hand and I'm worried what more foolishness could transpire next. David Stern and the owners have long been the Hidden Hand behind the scenes overseeing this league but now that a new world order is in effect, this could threaten what we see and love if you care about the NBA.
But this isn't all doom and gloom. Here's some quick hit storylines I'm watching.
1. Will the Heat win this year? I don't see why they aren't the favorites. The team that lost last year got better with Shane Battier but all eyes will be on Dwyane Wade's health and if LeBron James will play angry with a lil more developed game in the post/midrange.
2. Can Dallas repeat? I think they'll get back to the Western Conference Finals. With Lamar Odom and a crazy X-factor in Vince Carter, they might just be another Green Bay in terms of sneaky defending champions.
3. Can Memphis sustain its great run? I've seen Portland rise and fall. Memphis looks like a team that caught fire but I have no clue what will happen the year after. The great mystery of the West.
4. The last hurrah for the Lakers/Celtics/Spurs. Last postseason was the changing of a guard in the league. This will be the last chance for this teams to remain elite and I think the Spurs have the best mix of youth to stay around.
5. Kevin Durant finally wins MVP? Maybe this depends on Russell Westbrook and how he handled his postseason. But Durant showed why he's the most unstoppable offensive force in the league and I think this year he gets even better.
Oh yeah, can somebody explain to me how Kendrick Perkins got on the Buddy Love diet?
6. Lob City? Chris Paul trade hate aside, the Clippers are exciting for the first time in 10 years. Time will tell if they are as good as they were 5 years ago or if Donald Sterling will interfere with this run of good like he always does.
7. Kobe's last hurrah.
I said this summer that nobody has been an All-NBA selection after their 15th season except for Shaq and Kareem. Prior to 2 weeks ago, Kobe looked as healthy as he's been in years. But after that wrist injury and his divorce, there's no telling how he'll play this year and it's pivotal because it could be his last as the KB that we know.
8. Rip Hamilton might be the best signing of the summer. Shane Battier to the Heat could compete with this but if Hamilton has anything left, he gives Derrick Rose another weapon with postseason experience. I like this for Chicago, who I think is still the No. 2 team in the East.
9. Will Golden State finally reach the postseason? Mark Jackson is my early pick for Coach of the Year if the Warriors get there. It's about time Monta Ellis, Steph Curry and that high risk, high reward lineup makes good on their promise and mature into a formidable team.
10. Dwight Howard? This is going to be annoying and this offseason annoyed me on it. My prediction is he plays most of the season in Orlando. He's either going to New Jersey or the Lakers but watching Chairman Stern find a way to meddle in this too.
11. Which rookie will impress the most? Another weak draft class at first but I'm interested in the Cali kids I covered who are in the league (Darius Morris, Derrick Williams, Jordan Hamilton, Kawhi Leonard, Klay Thompson, Tyler Honeycutt). Curious to see what Kemba Walker does in Charlotte? How quick Jimmer Fredette gets humbled. Kyrie Irving's growth in Cleveland.