This is something I'm surprised I didn't do sooner. But I guess it's time to share how I became such a huge sports fan because it's not your typical road to being the junkie that I am right now.
My first sports memory was my mom watching the 1991 NBA Finals and remembering the end seeing Michael Jordan and Co. celebrate. I had no awareness as a 6-year-old what I was watching but I think I was mad and I didn't want to wear any Bulls gear. That might have been the start of my hatred of the Michael Jordan era even though I didn't really become a sports fan.
(Technically, Mom gave me earlier sports memories because she says I'd look at her confused while she'd go nuts over the Showtime Lakers. But I digress)

The next summer, I played T-Ball with some friends of mine from school. People might be surprised baseball was the first sport I ever played but I wasn't really that good. I just loved hitting the ball and that first season, I got a lot of doubles.
But my best memory was winning the game ball for hitting a "home run" in the semifinals - a HR that was more like reaching 1st on an error then running to 2nd and seeing the ball thrown into the outfield then running all the way home when the ball got thrown past the dugout. We may have lost in the finals, but that apple cider shower we all had was great!
Not exactly Al Bundy scoring 4 TD's in one game but it's my moment, alright? Thanks to T-Ball for two years and the Sandlot and Rookie of the Year in theaters, I became a Dodgers fan and started memorizing names like Eric Karros, Mike Scioscia, Kevin Gross and Darryl Strawberry. It later included Mike Piazza and Hideo Nomo, whose arrival I still remember driving folks into a frenzy.
The mid-90's also brought me into hockey briefly thanks to the Mighty Ducks and Wayne Gretzky. I owned the LA Gear Gretzkys and those movies had everyone wanting to be the man like Charlie Conway or super cool like Russ and his knucklepuck. They made hockey cool no matter what race you were and of course, Gretzky made LA Hockeytown for his brief stay.
I became a Cowboys fan during Super Bowl XXVII when I watched at home with the game in Pasadena. When I watched them play next year, I became a bigger fan. Troy Aikman, Emmitt Smith and Michael Irvin became my favorite players and I dug into the team's history. That led me to start watching Monday Night Football with my Dad and I taught myself who the best teams were and the best players. The 1995 Cowboys were the first time I really followed from start to finish and that's the first football season that got me started.
I never liked the Raiders or Rams so seeing them leave in 1994 was no big deal to me. I hated how folks still wore Raiders gear and their fanbase scared me. The Rams were so terrible, it was like good riddance.
Shaquille O'Neal got me into the NBA and I became an Orlando Magic fan before I became a Lakers fan. I had to teach myself how to play and who the best teams were.

As I

grew up watching Shaq and Penny, I also grew up with Nick Van Exel, Eddie Jones, Elden Campbell and going to sleep listening to Chick Hearn and Stu Lantz host the postgame chatter. I used to rent NBA highlight videos from Blockbuster and study all the players and their moves and I'd also buy NBA Almanacs to study the history of the game.
And when Shaq came to the Lakers? I was actually upset because I wanted a Magic jersey and I bought it the summer after he got traded. But I was happy that my favorite player was coming to the West Coast, more excited than some HS kid we traded for who was more known for dating Brandy as well as his incredible talent.
That was the start of me watching Fox Sports Net, which just debuted that year so I'd watch that for TV recaps of the day. I knew all of the local sportscasters by heart - Todd "Take a Hike" Donoho on ABC, Fred Roggin on NBC and Jim Hill on CBS - and I'd watch them at 5 and 6 p.m. break down local sports to a science.
Around that same time, I started reading the sports pages every day. I'd go to school with a copy of the LA Times and read the sports section and comics religiously. By the time I turned 12 in 1996 as I entered junior high school, my sports fandom education was complete - although I had a lot to learn as I got older.
I pretty much learned a lot about sports through experience and self-teaching. I didn't grow up thinking my teams were the greatest because except for the Cowboys, they weren't. My dad watched games with me but he didn't pass down any knowledge as much as he spent time with me watching and talking about what I saw (he always loved to needle me about the Bulls breaking my heart every holiday as much as my cousins did).
I grew up hearing Chick Hearn criticize the Lakers on air as much as he'd praise them and put games in the refrigerator. I grew up hearing Vin Scully's easy yet authoritative and professional voice tell it like it was with the Dodgers with no bluster. To me, I never had a reason to be a homer fan because my examples weren't super fans who didn't treat their team as gods. They were stars but not beyond criticism and if the voice of the team could be impartial yet loyal, so could I.
Being a LA sports fan in the 90's was fun but challenging. Nobody won titles besides UCLA basketball (who won that 1995 title right when I became interested in the school) but you connected to players and a team identity. You liked the Dodgers' young core of 5 straight Rookies of the Year, you enjoyed The Lake Show, you enjoyed Wayne Gretzky still in his prime. I loved watching the Cowboys win 10-12 games a year and get geeked to play the 49ers every year in a classic.
All of this I mainly discovered a lot on my own and my family pretty much let me be without influencing my team preferences. And that's how I ended up seeing sports and my teams today.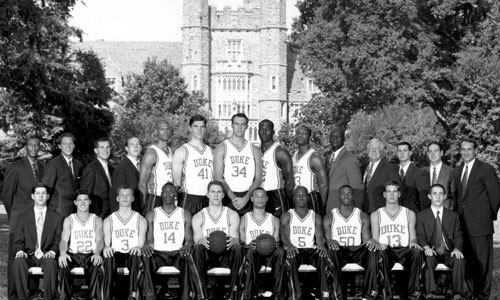 One more note: I became a Duke fan in 1998-99 when I saw Elton Brand and Co. run through college basketball. I became a Chargers fan in 2002 when I started attending school in San Diego and for the first time, saw a city rally around a football team.
Maybe I'll do a Part 2 describing my first time attending a sport event and how weird it was to attend my first ever football game at 18.