The first I heard this album was 10 years ago. I knew Sublime because "What I Got" was such a monster hit and when a friend at high school passed this to me, I figured I'd enjoy it. What I didn't expect was to go on a musical cruise that I never stop enjoying.
It's been 15 years since Bradley Nowell passed and I went from seeing him as a tragedy to one of the most underrated geniuses this city has produced. Sublime's mashup of reggae/punk/ska/hip-hop is still relevant today because when you hear them, you don't hear anybody else like them. You hear who influenced them but you still hear creativity and originality in bringing these styles together.
I loved the album in 2001 and replayed it to death. You have the easy breeze of "Garden Grove" with the hard rock of "Same in the End" and "Under my Voodoo" mixed with the Latin flavor of "Caress Me Down". It's the perfect mashup before mashups became vogue. Not to mention the hits that endured and still sound fresh on the radio today.
"April 29, 1992" is still one of the best songs describing the LA riots and at the time, I had never heard someone's perspective who wasn't Black. Bradley made me feel like it was a whole lot of anger going down and some White folks wanted to cause ruckus as much as we did. (Course I had a lot to learn about that day and glad I did).
After I had to give the album back - Mom wasn't too keen on me hearing certain stuff - I went to college and luckily I had a roommate who was a huge Sublime fan and schooled me on their influence on bands like Slightly Stoopid. He'd always play the Ziggens, a band Sublime was close to do on Skunk Records, and he'd tell me that there were plenty of bands who either borrowed from or dug from Brad's influence on the genre. I just soaked it up cause it added to my view on Sublime's greatness.
You can feel Bradley's soul in every lyric and with his death coming so soon before this album, you knew he thought this album would blow them up. Death often makes legends but it was clear that Sublime pre-1996 was destined for stardom. They already had local impact on KROQ and nationally on MTV. There was a budding ska-revival ready to burst through rock music. Had Bradley lived or not, I believe Sublime was going to be a major act.
Last year, I watched one of my favorite Youtube acts,
DJ Funktual
, break down this album and the other Sublime albums. It blew my mind even further because it showed Bradley's musical influences and how much he loved it. The self-titled album now became an album of covers and sampling so it proved how hip-hop Bradley was. Heck, even his reggae chops considering in Jamaican jams, folks would routinely honor or cover other songs in a way that would influence hip hop.
Take "What I Got" for example. It briefly samples Richard Pryor and a famous drum break before Bradley starts singing that first verse. The melody of that verse? It's a rip of the opening melody on Verse 1 of Beatles "Lady Madonna". Say what!!!!! Of course, most folks know Bradley's 2nd verse after the solo samples Too $hort and Lauryn Hill. But did you know that the hook samples one of Bradley's idols in Half-Pint?
That's 6 crazy samples mixed in with an original jam with original lyrics. Watch that DJ Funktual video and then go watch the others. You'll appreciate Sublime and Bradley more. Props to Eric and Bud for being a great rhythm section as well. All three of them had a unique chemistry and even when you hear Sublime With Rome now, it makes you appreciate Rome a lil bit cause it takes a special guy to have chemistry with those two (not counting the
Long Beach Dub All-Stars
10 yrs ago).
I bought the 10th anniversary album two years ago. It's cool hearing the original track order and the original version of "Doin Time" even if it's jarring to hear "Garden Grove" close the album instead of set it off. By the way, if you never heard the Wyclef Jean, Snoop or Pharcyde remixes of "Doin Time", you're missing out.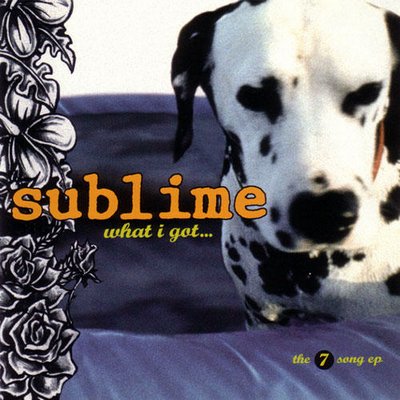 So far, it has 6.1 million albums sold and it'll keep on selling for years and years to come. Somebody will listen to it and realize how timeless it and other Sublime albums are.
This week, I listened to 40 Oz. of Freedom for the first time (Gotta hear their cover of "Scarlet Begonias" with some help from the Funky Drummer). It was just as enjoyable as hearing the self-titled album as hearing the covers and shouts out to KRS-One and James Brown let you know they weren't some ordinary band. They are forever legends in the SoCal music scene and I'm proud to say they repped Long Beach just as well as Snoop Dogg.
R.I.P. Bradley Nowell and thank you for the music. One of SoCal's finest and a musical genius who stayed original while introducing many folks to reggae, dub, old school hip hop and punk.