The other day, I found out that Rage Against the Machine's self-titled debut was being reissued today for its 20th anniversary. I can't say how thrilled I was because it's one of the greatest and hardest debut albums ever. Even though I don't have $75 to spend on that full set, it had remember when I spent the summer of 2005 listening to it over and over and loving every bit of it.
(I guess November 1992 was a time for releasing volatile work. Ice Cube released his classic Predator album - the post-LA riot soundtrack until The Chronic came out in December. Spike Lee also released his biopic on Malcolm X in November.)
Anyways, being a huge Rage fan in 2005, I had never listened to a full album despite KROQ playing the singles nonstop. I remember my friend Adam loaned me a copy of the self-titled album to burn before we left for summer break. What happened next was a sonic fury that carried on the legacy of the MC5, Clash and Public Enemy.
The first thing I said was that it sounded like nothing I never heard. A combination of the 1970's metal meets hip hop of the 80's. "Bombtrack" set it off perfectly. Timmy C's furious bassline creating an ominous mood and then the fury of Tom Morello's guitar and Brad Wilk's drums sound like revolution. Zach de la Rocha's growling tone just came at me like Chuck D or Stokely Carmichael. And the lyrics? Powerful.
American History's lies and half truths being taught in schools? Exposed and destroyed on the bass heavy "Take the Power Back", which I suggest listening to while reading a chapter or two of Howard Zinn's "People's History of the United States." Media manipulation? "Bullet in the Head" takes care of that. And no matter how many times you hear "Killing in the Name", that message against police brutality/racism rings clear in light of the L.A. riots.
I took a quote from "Settle for Nothing" and made it part of my inspiration when I got back to school "If ignorance is bliss then knock the smile off my face." That's a powerful line since it's inspiring yourself to be informed and not be a sheep.
But my favorite song from that album?
"Know Your Enemy"
. It starts off similar to "Bombtrack" slowly before grooving into that fast rhythm that sets off a riot. I love Zach's 2nd verse where he spells out defiance and urges action against the powers that be. It could've been something Huey P. Newton and others would've supported.
The killer part? The breakdown where Tool's Maynard Keenan sings before wailing. Maynard's voice was a perfect fit and I wondered how in the heck he ended up on a Rage song. That wail leads into Tom Morello's solo that's one of my favorite solos he's done. When I saw them play it at Rock the Bells in 2007, chaos is exactly what happened.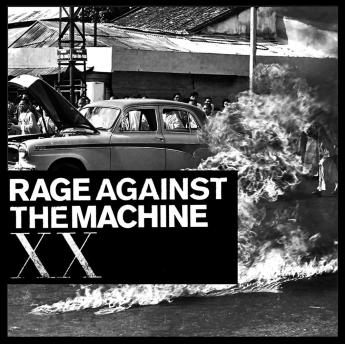 This is my favorite Rage album that I can play from start to finish. My favorite Rage song is "Guerrilla Radio" and "Bulls on Parade" has my favorite Tom Morello solo but that self-titled album is a wall of sound that stands out to this day. And I didn't even mention "Freedom", one of the best album closers I've heard.
It's four guys from my city taking music by the throat and creating a powerful, innovative sound that was a voice of caution during an era of prosperity. This can go up there with Appetite for Destruction, Doggystyle, Straight Outta Compton or any other debut of the last 30 years. And you know an album is great when one of its songs gets used seven years later in
one of the most iconic movies in recent history
and it still sounds relevant.
It also reminds me of a 20-year-old who gained a greater appreciation for one of the greatest bands my city has produced. Working for parks and recreation, I dove headfirst into this album and at a time where my consciousness was being shaped at school, it was perfect for my education.
(Here's a great interview with Tom Morello
on the album's reissue
.)