For years, I've felt that the greatest hip hop tragedy not involving a death was what happened to the D.O.C. Thanks to a car accident that trashes his vocal cords and suddenly, one of the West Coast's most promising talents has been altered forever.
The biggest outcome is that future generations of rap listeners like myself would never get to hear him on records that dominated the West's landscape. Future generations would also forget his talent and perhaps only remember him from Dr. Dre's shoutout on "Nuthin But a G Thang" or his voice on this Jock Jam/sports arena classic.
To be honest, I didn't even listen to No One Can Do It Better until 2009. Yet being forgotten or known as a sidekick does a disservice to perhaps the most technically gifted MC on the West Coast who could've made an even bigger impact that he has now as a ghostwriter.
This month is the 25th anniversary of the D.O.C.'s debut and it's one of my favorites. He made rapping sound so easy and with Dr. Dre continued to build on his production style, it was a marriage that added a new layer to the West Coast beginning to make an impact on rap.
D.O.C. was Texas-born but East Coast inspired in terms of his rapping. He sounded like he wasn't just competing with N.W.A., Ice-T or Too Short, but Rakim, KRS-One and Kool G. Rap. He was technically sound, versatile and he could write tight verses that didn't waste a bar. And that voice. Just a gift that grabbed your ear.
"It's Funky Enough" shows that right away. His flow was controlled and rhythmic but it showed the technical brilliance you'd find later on the album. As the intro? It set off the mood so perfectly - N.W.A.'s first song on Straight Outta Compton let you know this was war. It's Funky Enough let you know a lyrical tornado was coming.
But then he'll do a song like "D.O.C. and The Doctor" where he accentuates every syllable and word slowly. It's an easy flow on the surface but beneath it, you hear measured breath control to stay on top of that beat and ride it so smoothly over a chopped up beat.
He went complex on "Whirlwind Pyramid, fast on "Lend Me and Ear" and "Portrait of a Masterpiece" (the breath control on this - my goodness!) and slowed down on "Mind Blowin" or "Let the Bass Go." All the while, he showed a laidback confidence that let you the album title wasn't a joke.
He was a fully realized artist that knew his talent, knew how to present himself and had a maturity in his delivery that most West Coast cats didn't have. It's no wonder that he had an influence on NWA and future West Coast artists because he already had a vision and carried it out.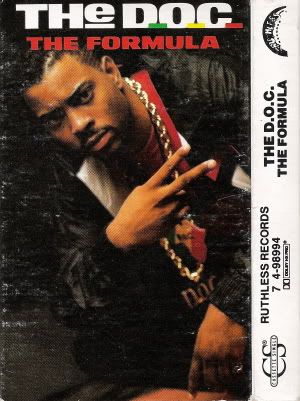 Take "The Formula". Story goes that D.O.C. dreamed that he rapped over Marvin Gaye's "Inner City Blues". He told Dr. Dre and Dre goes ahead to mix the record. When I hear D.O.C. on it, it's so smooth that it fits the dream-like quality of the original while giving it a current feel. A lot of credit goes to Dre for that but D.O.C. injects personality into those rhymes to give it just enough life without overshadowing the music.
Dre's production was a step up from Straight Outta Compton. He showed that while he could still sample, he added more live instrumentation that'd become a hallmark of his future sound. "Beautiful But Deadly", an anti-groupie song, rocks so hard with Stan the Guitar Man's guitar playing but it made me go back to hear the original - Funkadelic's Cosmic Slop. "The Formula" also made me appreciate "Inner City Blues" more.
The final song, "Grand Finale", is amazing in every sense. D.O.C. and N.W.A. trading bars. DJ Yella on drums, Stan on guitar and LA Dre on keyboards giving it a live musical feel while Dr. Dre samples Parliament's "Chocolate City" for the main riff. Musically it might be underrated but lyrically it also saddens me.
It's the last song on the record. The last song we'd hear from D.O.C. before the accident. The last N.W.A. song as a 5-man unit. It's a reminder of how potent they were together and how things would change dramatically in just six months. We'll always have this and "Parental Discretion Iz Advised"
Oh and the album went gold in three months and was No. 1 on the R&B/Hip-Hop Album charts. He was a star and then…that voice was changed forever.
What if D.O.C. didn't fall asleep at the wheel and was wearing his seatbelt. Maybe he joins NWA after Cube bounces? He jumps on "Efil4zaggin", a No. 1 album, and his profile blows up more. Maybe he puts out a second album in 1991 and rivals Cube and Ice-T as the biggest/most important solo rap acts from L.A.
Considering how much sway he had on The Chronic and Doggystyle - he helped shape Snoop Dogg as a songwriter, among others - he might have been featured on a few songs and blew up even more.
The D.O.C. with Craig Mack and Notorious B.I.G.
Who knows what would've happened later with Tupac and if he could've collaborated with other like-minded artists around the country. Considering also that he was a prolific ghostwriter for Death Row, he would've been all over records as well as perhaps made one more record that makes him a multi-platinum star, building on his momentum.
It shows how much was lost that fateful day in November 1989 and what possibly he stood to gain due to his talent. Granted, the D.O.C. would be remembered forever thanks to Dre's shoutout and others who mentioned him along with his prolific work. But he should've had more.
"No One Can Do It Better" is a time capsule of a talented MC who had all you needed to be great. It's one of the greatest debuts in hip hop and one of the greatest albums in L.A. rap history. 25 years later, it still sounds vibrant and it's a record worth hearing to remember a pioneer who we shouldn't let be forgotten or reduced to a behind-the-scenes master.