40 Days. It's a significant time in the Bible. The length of the flood in Genesis. The time Jesus fasted in the desert before Satan tempted him in Matthew. The typical length of Lent. It's a time of transformation and testing that leaves you far different than when you start.
For 2014, you can sum up this year in a 40-day period for me that left me similarly changed. August 30-October 9 will be a time I won't forget because it shook me up, blended my insides and poured me out stronger. Few things this year affected me more.
August 29 - I'm robbed of my laptop in San Pedro following my first prep football game of the season.
August 31 - I arrive in Dallas for my cousin's wedding and that night, I hear my friend/colleague/photographer Eric Wade dies suddenly after shooting the USC game.
September 1 - My cousin Jhanarius gets married on Labor Day.
Sept. 9 - While on a run, I get a call that I've been promoted to the LA Daily News as a full-time reporter,
Sept. 11 - I sign the paperwork to make it official.
Sept. 15 - My first day at the Daily News
Sept. 16 - Eric's funeral
Sept. 17 - My 30th birthday
October 7 - My girlfriend and I break up after nearly four years of dating.
That's enough stuff for a year of memories but it happened all so soon. My life changed for the better and the worse. Losing Eric was one more reminder that my 20's were filled with saying goodbye to people as I get older. My relationship ending was a reminder that love isn't easy but worth it no matter the outcome.
I remember getting a message from a coach telling me that God was preparing me for something after I got robbed. At first I thought it was my job but it appeared that more was coming. The joy of finally getting my first full-time job may have come before the pain of ending my longest relationship but it's a reminder that as Big KRIT once said, "Life's an EQ of High's and Low's" so just find some balance where you can.
Being robbed took a lot of my security and peace of mind but it came back. I could be dead but instead I'm scarred for the better. Scars are reminders and lessons so I take the ones I got from these transitions and wear them proud.
I know 2014 was a rough year for some and around America, it was a hot summer/winter that ripped open more wounds and saw powerful fights to call for a healing. But I'm happy to be in a good place professionally and personally? Well I'm in repair and being prepared for the next level. As I prepare for Year 30-31, who knows what those 40 days will ultimately lead towards but I'm open and ready for it.
Here's some of my favorite memories.
BOSTON
: Going there for NABJ was great on several levels. Finally getting to meet Dart Adams at the Sports Task Force Jam was a pleasant surprise (and also Ms. Lizzy from Twitter). Being encouraged surrounded by peers instead of feeling awestruck. Meeting Michael Wilbon finally and having him remind me how to build sources. Got to be inside Fenway Park and see a few monuments.
Best of all I got to see my friend Sam for the first time in 8 years. We broke bread together, watched baseball, drank ale and listened to Ella Fitzgerald/Earth, Wind and Fire on vinyl. Although he was laid up from an accident, he gave me advice that would resonate with my 2014 - "people matter over things"
More importantly, I'm happy that several of my brothers and sisters found success this year in media. I want to shout out Quinne, Keion, Montezz, Bonta, Rahshaun, Lauren and my young brother LaMar for what they've accomplished this year and I know that more is coming.
(Took this photo at El Capitan State Beach the weekend before the 40 Days - calm before the change)
EL CAPITAN
: Crystal Blue Persuasion seeing the beautiful blue sea at a beach spot near Santa Barbara. My first time camping and it was a fun experience. Even cooler stopping in Isla Vista and seeing UCSB. It took me out of my comfort zone but it was quite fun.
STATE CHAMPS
: I've covered teams that won state titles before but covering Bishop Montgomery's basketball run was special. This year taught me how to cover a beat, how to be diverse and look for stories besides the obvious. So when I got to know that team a bit closer and more in depth, it made writing about their state title all the more special (even if I didn't get to go to Sacramento).
NEW JOB:
Can't say enough again about how this job has been such a blessing. This summer, after splitting time with the Long Beach Press-Telegram/Daily Breeze, I pondered my next move. I couldn't work part-time for long and I was worried that the encouragement I got from work wasn't leading anywhere. Boston had me optimistic something would change in LA but what exactly, I didn't know.
Some of you who have read me for a while know the struggles I've faced since quitting my job at the LA Sentinel in 2010. I was broke at the end of 2011-12 and seeing red in my account made me both disheartened and jaded. I had part-time gigs but nothing was sticking as my late 20's were spent refining my mind/purpose as my life was stuck in neutral.
It's not a coincidence to me that the phone call I got came while I was doing another life-changing event. 2013 saw me find renewed hope in running and getting the part-time gig so it's only fitting 2014 changed for me while I was running. I'm not only humbled but I'm appreciative of the four-year odyssey to get back to where I used to be.
RUN, RUN, RUN
: Last year I ran about 370 miles. In my 2nd year? 413 miles (as of 12/30). I joined two running crews in WeRunLA and BlacklistLA and they inspired me even more to keep at this. I've made some amazing connections that inspire me to keep being healthy. I ran my longest distance of 7.5 miles and my goal for 2015? 430-450 miles, finally entering a 5K and shedding some more weight that crept back up in 2014.
COMEBACK
: This calendar year I covered a college team (Long Beach State) and a sporting event at the Coliseum. It sounds like humblebrag but it's actually big for me because that was a first since 2010 - not counting a UCLA game in 2013. I tried to soak it all up because it was a reminder that my career was getting back to a level I hadn't seen since I quit the LA Sentinel.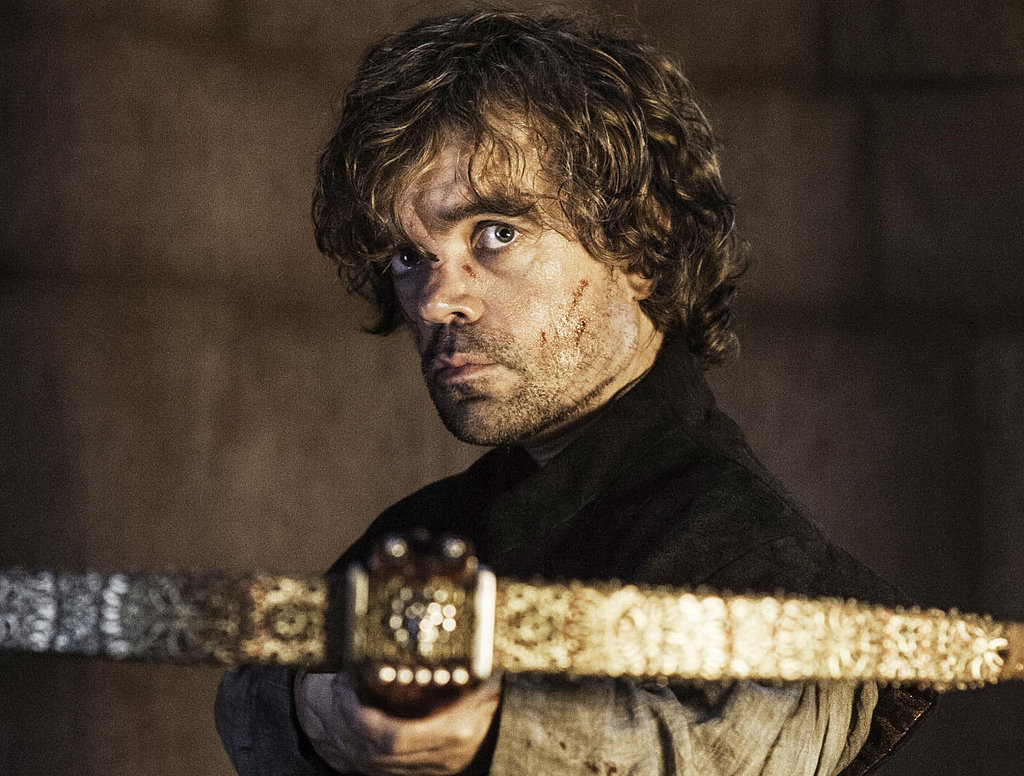 Tyrion Lannister's trials was one of the many reasons I loved this season of Game of Thrones.
BROS and THRONES
: While writing for Bro Jackson, I dabbled into doing television recaps for the first time with Game of Thrones. It was a stretch for my writing but I also liked the challenge of trying to pick up on themes and practice seeing what others didn't see. It wasn't the easiest thing I did but I also loved it, especially since Game of Thrones was so incredibly good this year.
Writing for Bro Jackson kept me sharp in my valleys. I stand by the sentiment that I'm writing with some of the best writers around and perhaps one of the most diverse collection of folks on a site. Plus I'm very proud of the pieces I wrote this year - some of which will make my personal fave post.
What will 2015 hold? Getting better I hope. Improving myself, improving my craft, improving my body and continuing to sharpen my mind. I know 30's the new 20 so I'm working to keep youthful and eager while applying the wisdom I've gained. Oh and hopefully watch The Wire at some point.