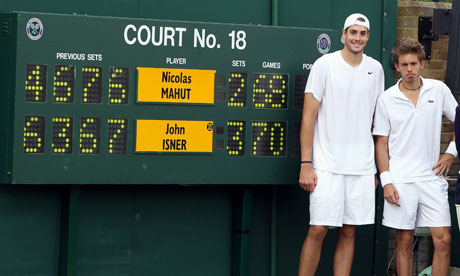 The two major sports lowest on my radar are tennis and soccer. I love tennis during the majors and soccer only during the World Cup. Little did I know that both would provide two of the best moments of the year.
Yesterday I watched nearly three hours of tennis. I never do that. Because of church, I never get to see most Grand Slam Finals on Sunday and so I feel like I finally got a chance to watch an epic match of will, determination, guts that may overshadow anything else we see this year.
John Isner and Nicholas Mahut played the longest match in tennis history in the fifth set alone (8 hrs - 11 mins). The match itself took 3 days with play suspended to darkness twice. A grand total of 11 hours and five minutes at Wimbledon. Unbelievable.
I woke up to 39-38 Isner and raced to my TV. On Twitter, I went from awe to placing predictions on where it would stop (52, 57, 60?). You wanted it not to end because it meant someone had to lose.
Nothing was better than seeing Mahut dive near the end of Day 2. That shot said it all - and the normally stoic London crowd begging the ref to keep the match going. And the scoreboard blowing out.
Wimbledon has seen epic matches (Federer-Nadal in 08, Federer-Roddick last year) but tennis won today. Just for good measure, Isner won by outlasting Mahut 70-68 (11-9 today!). The numbers are mindblowing.
Sidenote: I kept hearing Mahut's name and thought back to one of my classic memories from ABC's One Saturday Morning cartoons ---> Mahooot from
Mrs. Munger's class.
hahahaha
Oh, and that came after possibly the greatest US soccer moment ever. A fastbreak that showed us that is isn't your father or older brother's US Soccer team. Pardon me for doing this in basketball terms
Tim Howard sets up perfectly with the outlet pass to Landon Donovan, who dribbles downfield with teammates around. Jozy Altidore gets the pass, sets up Clint Dempsey for the score and Dempsey gets blocked. But WAIT! Donovan was still trailing the play and the rebound was there for the taking. With the goalie down, he kicks it right into the open net. GOOOOOOOOOOOOOOOOOOAL!!!!!
A perfect fastbreak play of instinct/skill/timing. Give Howard credit as the heart of his team for setting it up. Altidore, the future of US soccer, gave a perfect pass while the hero of the England game (Dempsey) put up a shot that wouldn't win but set someone up. And Donovan, the greatest US soccer player ever, obliged.
Staying alive never felt so good. England put pressure on us with Jermain Dafoe's great goal but gave us a gift when the great Wayne Rooney missed a wide open shot. Man I love the Brits, always good for assistance since 1815. First Green gave us that goal with his soft hands, now Rooney blew an easy goal. God Save the Queen indeed.
First time the US has won a WC group since 1930. We got Ghana this weekend in the Round of 16. Guess where I'm gonna be.
This is why I love being a sports fan - every once in a while, a sport you only watch recreationally can give you moments that match up with watching your team winning an NBA, NFL or MLB title.