With news that Ohio State quarterback Terrelle Pryor has given in to the blood thirst around him and (wisely?) decided not to return for his senior year, it makes me look back at his career since he was hailed as the most hyped football recruit ever.
For those who don't remember 2008, Pryor was not only the consensus #1 football recruit in the nation, he was a top-25 basketball recruit as well. He was a bigger Ronald Curry - 6-6 with jaw dropping athleticism, a big frame and possibly the best two-sport star many of us had seen in ages. He delayed his recruitment to win a state basketball title and I for sure thought he was going to be Richard Rodriguez's next Pat White at Michigan.
When he went to Ohio State, I was shocked. He had a so-so freshman year but he finally gave Jim Tressel some BCS hardware after years of Fiesta Bowl wins and choke jobs. He never developed into an elite QB - name the last Buckeyes QB that had NFL success - but he became a game manager under the conservative Buckeye offenses.
Do I think Pryor was overrated? Not really. I think we never saw his full potential because of the system he was in. However, he looked stiff and not fluid at times and chances are he's played his last days at QB unless something changes in his personal development.
But it looks like he alone is going to be blamed for bringing down Ohio State football when there's plenty of blame to share. The comments by Ohio State Athletic Director Gene Smith on hoping he gets his degree ring hollow compared to his and President Gordon Gee's dog-and-pony press conference supporting Tressel, where Gee said "I hope Tressel doesn't fire me"
At this point, I only frown on academic cheating and criminal offenses. When it comes to athletes getting money under the table, I'm looking at the NCAA like "You'd rather have this than paying these guys upfront?" "You support amateurism in an era of TV contracts and bowl games getting huge financial payouts yet none comes down to the guys who make it possible?"
I believe in integrity but when I realized that football and basketball made way more money for the school, I'm more upset at people who make money off these players then get away with no punishment while they go down for relatively small-time offenses.
(In Pryor's case, his money tree, Dennis Talbott has
an interesting history
. The fact that he openly paid checks says dude didn't care about dropping dollars or running to make money off his name and the names of other guys.)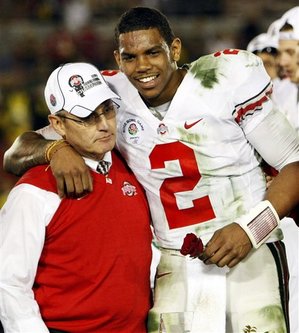 Thanks to this
latest story
about Pryor being compensated - where his biggest crime is Nicky Barnes like flaunting, not making money off his name when older men were going to do that at auctions - chances are Pryor's name will be stripped from the record books and Ohio State's going to lose some victories.
Meanwhile, Jim Tressel is being hailed as a pious, noble figure for resigning despite the Sports Illustrated story showing this is bigger than Pryor and his four associates and controversy has followed him since Youngstown State. He lied to the NCAA while trying to protect his players amidst a federal investigation but the NCAA doesn't care. If Tressel came clean, Pryor and Co. would be suspended and we'd move on.
Meanwhile Gene Smith has to watch his head because saying that Pryor and Co's tattoos were an isolated incident has clearly backfired. If Mike Garrett was forced to step down as USC athletic director based on Reggie Bush, OJ Mayo and other instances of impropriety, Smith should be the next head to roll.
Meanwhile, boosters are showing once again they impact college sports in negative ways. They have power and most use it wisely to benefit their school of choice. At the same time, that power is negative when they don't have to answer for dropping money into the laps of a few kids creating a hornet's nest of jealousy in the locker room and escaping blame when everybody suffers around them for their "noble gestures."
It just goes to show you that enormous hype and attention showered on kids paves the way for snakes and poor decision making all around. But we also need to differentiate between boosters giving benefits to sway a kid going to college versus a kid getting a (reasonable) hookup while he's there. What's more damaging to a program? You know things are bad when Bobby Knight is
calling out the NCAA on this rule.
The problem isn't players or even the CEO coaches - it's boosters and the hypocrisy of an organization promoting amateurism and student-athletes without doing more to protect the players they see as expendable. It's bigger than Terrelle Pryor and once folks see that, then we can talk intelligently about what happened to Ohio State.