Part 1: The Prologue
These are the words of LA Times reporter George Ramos on the front page of their May 4, 1992 edition. When he passed away last year, seeing his words stuck with me because he was a native son. An East L.A. kid who grew up to be a reporter. And for one of the darkest periods in L.A. history, he was stern, honest and ashamed.
After five days of chaos, here was the final report. 53 or 54 people were dead. Over 4,000 were injured. 12,000 people were arrested (but more than a third were later released due to lack of clear evidence). Over $1 billion in property damages. And a city shaken and scarred for the next few years.
There was a lot of soul searching to be done. The deadliest U.S. riot in the 20th century and the most costly in U.S. history. Parts of Los Angeles laid smoldering and people from all communities called for peace. There were rallies in Koreatown and all over South Central. President George Bush and Arkansas Governor Bill Clinton took time out from their campaigns to visit the riot torn areas.
A bright spot that emerged was a gang truce that had been discussed in the days prior to the Rodney King verdict. Bloods and Crips had been gathering under the leadership of Minister Louis Farrakhan and NFL Hall of Famer Jim Brown, who donated a large sum of his own money to make this work.
Nearly 300 gang members showed up at City Hall in Watts to sign the Gang Truce. They were all committed to stem the violence they had been causing over drugs, territory and senseless beef.
I remember hearing about this while watching a documentary a few years ago called Bastards of the Party. Former Blood member Cle Sloan (who you may remember from "Training Day") showed how positive it was and how he renounced his lifestyle that led to so many deaths and lives altered.
Meanwhile, Damian "Football" Williams and three others were charged with beating Reginald Denny (Williams and others had also beaten Fidel Lopez and others). Williams received the stiffest penalty because of video evidence showing him assaulting Denny with the brick. Convicted of misdemeanor assault and mayhem, he was sentenced to 10 years but released in 1997 for good behavior.
Henry Watson, one of the attackers, spent 17 months in jail - credited as time served during his arraignment/trial – and publicly apologized to Denny and now has a successful limousine business.
The LAPD and Chief Daryl Gates were investigated for flaws in handling the riots and after initially bristling when asked to step down by Mayor Tom Bradley (who stepped down himself in 1993 after 20 years) , Gates stepped down in July 1992. His detached attitude in the early moments of the riots combined with his gruff attitude towards the mayor and City Council, those he came into contact with and his paramilitary tactics made the news something of joy to folks.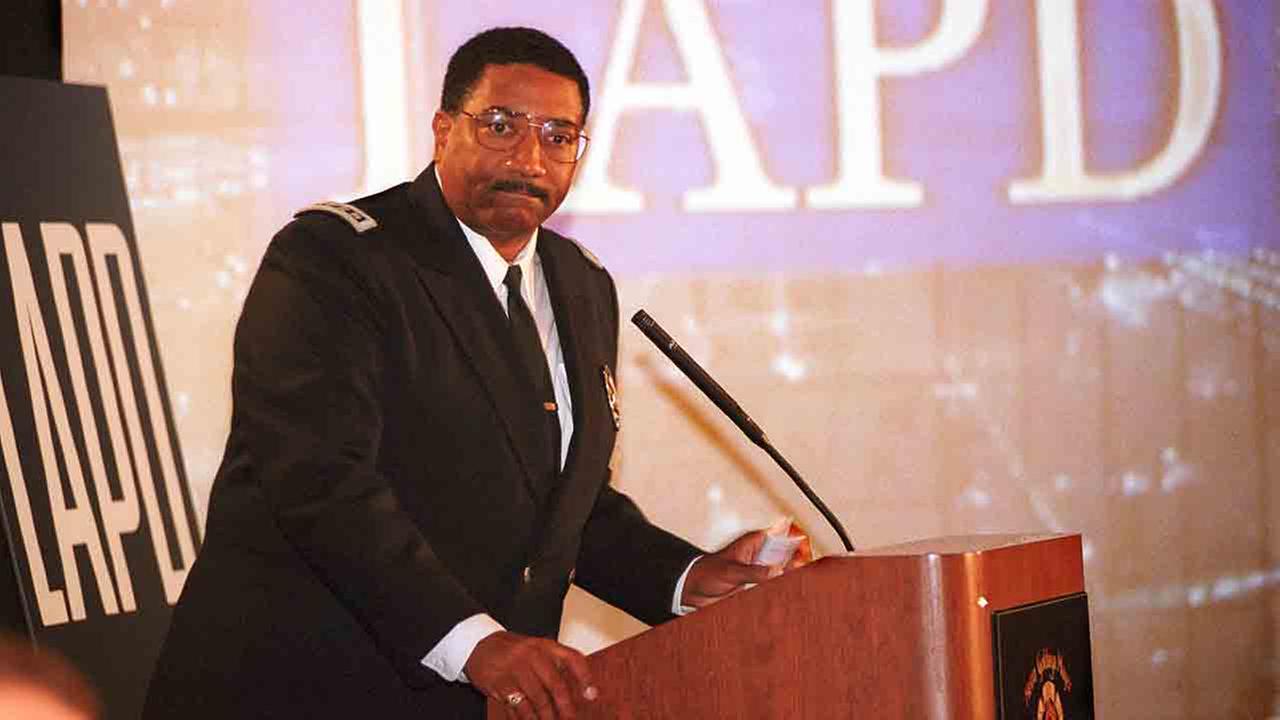 Willie Williams (Ed. Note - Williams died in 2016)
Replacing him was Philadelphia Police Commissioner Willie Williams, the first Black chief in LAPD history. Things looked rosy in that regard but despite the LAPD being under heavy watch and demand for change, the culture there didn't change overnight.
The O.J. Simpson Trial was a reminder that bad apples on the force still existed – Mark Fuhrman anyone? – and some feel that Simpson being found not guilty was a bit of payback for the King trial. I believe it's a great theory and I'll also give Johnnie Cochran and his team credit for arguing a great case masterfully.
Federal charges of civil rights violations were brought upon Sergeant Stacey Koon and Officer Laurence Powell. On April 17, 1993, nearly a year after the city erupted, Koon and Powell were found guilty and were sentenced to 30 months in federal prison. Timothy Wind was soon fired after the riots and Theodore Briseno never found police work again after testifying against the other three.
Rodney King was awarded $3.8 million in a civil suit. I don't need to discuss his post-riot life in more detail since we already know. Soon Ja Du, the Korean shop owner who killed LaTasha Harlins, now lives in the San Fernando Valley and her liquor store was burned during the riots.

Above and below, this is Numero Uno Market. It stands now where Empire Liquor, the site of LaTasha Harlins' murder, once stood before it was burned during the riots. It also represents the changing demographics in South Los Angeles from Black to Latino. (Photos by Evan Barnes)
But perhaps the biggest impact of the riots? The slow, but swift exodus of the Black population with a housing boom over the next few years in Antelope Valley (North), Riverside County (East) and other densely populated areas.
My godmother (and several folks from my church) was among those who moved to Antelope Valley. She told me that as people moved out of the area and repairs were slow, it became more gang infested (some areas didn't follow the Gang Truce). I remember years of making that long 2-hour drive up the 14 Freeway to visit her and loved how nice (and HUGE) her house looked.
As for me, it's hard to watch the footage and think that this happened in my city. My Los Angeles. It feels like a world ago and I saw a collective anger that I doubt still exists in that capacity here.
I used to think for so long that the anger of the riots was justified. Like Rev. Jesse Jackson and Rep. Maxine Waters (a freshmen Congresswoman in 1992) said, it was the outrage of so much frustration and being treated like prisoners in their own community. It was a response against Reaganomics – removing social programs and defunding outreach effort –, the LAPD, and hopelessness around them.
But as I relived the footage, my heart sank. Businesses in our community were ruined. Lives were uprooted that didn't need to be. I looked on it with sadness and the defiance I've carried for over a decade melted away to a point. I understand why Ice Cube, Dr. Dre, Snoop Dogg, Ice-T and others made music that reflected the anger and frustration of so many. I know why "Boyz N The Hood" and "Menace II Society" were so vivid and captivating in preaching the truth about growing up in South Central.
Yet I can't sit down and accept that we burned our city down. We burned up lives. We burned up our strongholds that have been shaken and (in some cases) still aren't where it used to be. I drove down Crenshaw Boulevard for the better part of four years (2006-2010) and all I could think of what was it used to be – a thriving epicenter of Black Los Angeles. Just like Central Avenue.
I watched those videos of angry and saddened shop owners. I watched the looting. I felt the same way I felt when I heard about the few who did that in the aftermath of the Oscar Grant trial. What does looting have to do with anger? Why didn't we go out to Simi Valley and Beverly Hills to cause ruckus? I know people targeted police cars but why not send a bigger message to them?
But I also can't just be mad at those 5 days without knowing what caused it. It wasn't because of Rodney King or LaTasha Harlins. It was decades of injustice and second-class treatment. It was people who felt like their voice was silenced and they needed to speak up the only way they felt how.
(Update - Both the
LA Times
and
LA Daily News
(my current employer) have done a great job looking back at the LA Riots for the 25th anniversary. Links have been provided)