When you hear the name The Isley Brothers, what do you think of? The funk of the 70's? The Quiet Storm era? The songs they did with R. Kelly in the 90's and 2000's? Or even the old school Twist and Shout or Shout?
What about this. Do you think of them as one of the greatest American bands ever? Or perhaps one of the most underrated groups in music history? Follow me for a second.
How many bands/artists do you know have existed for over 50 years and have universal respect. The Beatles are still royalty. James Brown is an American institution. The Rolling Stones could sell out any place in the country. Ray Charles will never be forgotten especially thanks to his biopic. Stevie Wonder? Bob Dylan? Legends.
The Isleys may not have made as much groundbreaking music as the folks who came in that era. But they succeeded in so many genres that it's amazing they aren't more recognized as an American institution.

(Also it's funny how much great R&B/funk came out of Ohio. Bootsy Collins, the O'Jays, Zapp, Slave and the Ohio Players – urban music owes a lot to that state)
Ronald, Rudolph, and Kelly Isley in their 60's phase
Consider their first hit –
"Shout"
co-written in 1959 when Ronald Isley was 18. Ronald, Rudolph and Kelly Isley created a song that's become as much an anthem five decades later as James Brown's "I Feel Good", released 3 years later. The raw energy in that song symbolized the power of early rock-n-roll that made people fear Black artists at the time.
The Isleys shined in the rock era of the 60's with classics like "Twist and Shout" (I remember being bugged out in HS hearing their version having grown up with the Beatles' version) and "Its Your Thing".
They thrived in the funk era in the 70's by adding Marvin Isley, Chris Jasper and the criminally underrated Ernie Isley to play instruments. There's no better evidence of this than my favorite Isleys song, "That Lady"
Tell me that Ernie Isley doesn't introduce himself with fury on that guitar intro and outro solo. Tell me that Ron Isley didn't transform his voice from raw power to the smooth control that we mostly know. The crooning harmonies were still there in some form but that song was all about Ron and Ernie and those incredible Latin drums.
This was the 3+3 era and their soul/R&B sound became funkier and they made even more classics while also becoming known for their ballads.
"Fight the Power"
(co-written by Ernie) was a funky protest jam a decade before Public Enemy made it an even bigger anthem. Ernie Isley co-writing more of the songs added more funk/edge to their lyrics while Ronald, Rudolph and Kelly made their harmonies match that powerful rhythm.
But those ballads "For the Love of You" "At Your Best" "Voyage to Atlantis" are all timeless songs that never get old. A personal favorite? "Groove With You" from their Showdown album for its smooth feel like the title says. I bet you a whole lot of folks today are alive because of those songs.
Those ballads helped influence the Quiet Storm era of R&B in the 1980's. So did their final 3+3 album "Between the Sheets," which I consider a classic for its influence alone.
We all know
the title song
cause it gets right to business. The music was almost secondary (yet still vital) to Ron Isley's strong yet sensual voice. It was a perfect backdrop for Ron to tell you what he wanted without being dirty yet it wasn't for the kids either. I love how the music changes near the end because it takes you higher in ecstasy – probably the same reason Jay-Z and Just Blaze used it for "Ignorant Sh-t" because it's so mystical and angelic.
Just in case you thought they were only lovers at this point, the Isleys also had
"Ballad for the Fallen Soldier,"
. Discussing fallen soldiers from Vietnam and those M.I.A., it shows you the anger in wondering what war is for and the detachment of the powers that be. Even though it's muted compared to Fight the Power since the album is so smooth, the frustration in Ron's voice and Ernie's brilliant guitar solo is evident.
I guess it's fair that Quiet Storm sound came to define them in the MTV/BET era because that was their last successful album before Kelly Isley died and Rudolph Isley joined the ministry. Ernie and Marvin Isley came back but after diabetes kept Marvin off touring (and led to his 2010 passing), they became a duo.
The cover of their 1996 album. Ernie, Ron and Marvin Isley
Yet Once again, the Isleys found a way to stay relevant thanks to their influence. By 1996, Aaliyah had covered two of their songs, UGK
sampled them for one of their most enduring hits
and R. Kelly needed to add some old soul to his repertoire. He called up Ron and Ernie Isley and they created "Down Low" introducing Ron Isley as Mr. Biggs. The ode to creeping around fit the times perfect and even though I don't jam the R. anymore, it was one of my favorite songs.
If you're counting, that's a FOURTH decade where they made a Top 40 hit (Shout was in the Top 50 despite going gold), 1962, the 70's, 80's AND the 1990's. "Down Low" brought the Isleys back and in 1996, they had their first platinum album in 13 years.
For good measure, the Isleys kept that good measure with R. Kelly going in 2001 with "Contagious" – I remember hearing that song all over radio in high school and the video was an awesome mini-movie. But it said how timeless the Isleys became. They were the legends who kept on making great music.



"Contagious" was a Top 20 hit. A band that debuted in 1959 had a hit and double platinum album over 40 years later. And yet people don't mention the Isleys as one of the all-time greats. They also had a No. 1 album in 2003 and were actually still on the radio – not just living off past glory.
Fans of R&B and funk know how great the Isleys are and yes they are in the Rock and Roll Hall Fame. But to me, they should be talked about more as one of the best American born groups ever.
You want to talk about influence? Listen to their 1964 single
"Testify"
, featuring a guy that Kelly Isley found named Jimi Hendrix. That was the first time Hendrix was ever heard on vinyl. That song also influenced Stevie Ray Vaughan
to do his own cover on Texas Flood
.
Yep, that's a young soul version of Jimi Hendrix with the Isleys
As I said, the Quiet Storm format owes a lot to the Isley Brothers because so many ballads fit that style. Hip-hop has sampled them to death from Ice Cube, Notorious B.I.G.,
J Dilla
,
Beastie Boys
and many more.
You can listen to an Isley Brothers record and just fall into it. It sucks you in because of Ron's voice and the music behind it. I was literally on Spotify letting it shuffle on their page and songs I didn't hear before sucked you in. If Ron Isley was just a good singer, you'd listen but that music and production behind him was so tight and irresistible.
Ron's one of our finest love poets with one of the most unique voices in music history. Hear the rawness of the early Isley records to the smooth control in the funk/Quiet Storm era. You won't hear too many like it. It evolved with the sound of the band. You also can't forget the great harmonies with him, Rudolph and Kelly and those older records still sound as amazing as the funkier ones.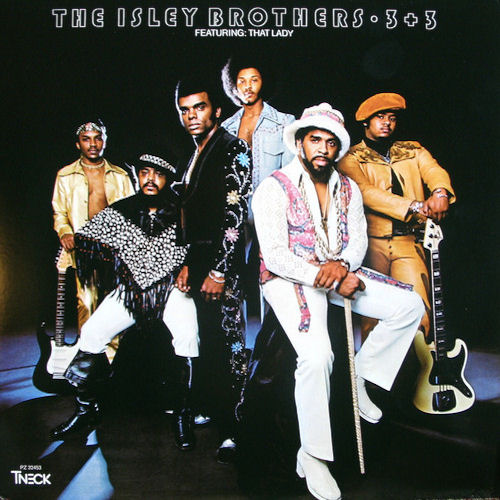 Ernie Isley deserves way more love as a phenomenal guitarist (as should Marvin Isley and Chris Jasper for their musicianship). Just like Eddie Hazel of Funkadelic, he played with soul and fury. He could play behind Ron's voice or he could carry a song with his guitar work. He could rival anybody who's ever picked up a guitar. One more reminder – his solo on the cover of
"Summer Breeze."
The Isley Brothers are consistent. They are versatile enough to impact several genres with defining hits. They've influenced generations of folks from all races and backgrounds. They had or were part of charting hits in six different decades and they've made some of the most recognizable songs of different eras. They are legends but I don't think some folks realize just how great they really are and that folks from 20 to 70 know their music for their different eras.
They might not be as creative as Stevie Wonder, Curtis Mayfield, Prince, Sly and the Family Stone or others but they deserve to be mentioned as one of the greatest American-born groups ever.