For some reason, there's uproar over Justin Combs, the son of Sean "Diddy" Combs, getting a
scholarship to play at UCLA
. National Signing Day was months ago and yet now it's a big deal??
According to scouting reports, the younger Combs is a decent cornerback (2-star recruit on Rivals). He wasn't a top-flight recruit but after
a great showing in a 7-on-7 camp
, he got attention from a few major schools. UCLA decided to offer and Combs signed his letter of intent.
I didn't think much of it because if the school wanted to offer a scholarship, so be it. I didn't think he'd get much playing time but a chance for a young man to live out his dreams and get a top-flight education is worth much more.
But apparently some people are crying foul. They ask why is he taking a scholarship from somebody less privileged? Why take money when his family can afford to pay his way? To them, I say shut up and listen to yourselves. You are angry that a young man earned his scholarship and that the school decided to recruit a famous person's son.
First of all, this isn't unusual. Four years ago, USC offered a scholarship to Romeo Miller. The former rapper is the son of rap mogul Master P and I remember folks being just as confused when they signed him. I was confused myself since I saw him play once and didn't see anything special. Just a good baller but not outstanding or D1 worthy.
It turns out Romeo was friends and AAU teammates with future NBA'er DeMar DeRozan, a Top-5 recruit from Compton HS. Then-USC head coach Tim Floyd offered Romeo a scholarship with the hopes of helping to attract DeRozan a bit more. It's not unusual and actually quite normal. Guys want to play with their friends and coaches are smart enough to know that.
People got upset over his scholarship too. They cried foul. Master P said he was proud of his son pursuing higher education. Instead of being confused, I just accepted it and figured it wasn't worth the trouble. (Besides, nothing was funnier when I attended a UCLA/USC game and he came in at the end. Folks were chanting "Bow Wow's better!")
People also forget that there's two types of scholarships. Need-based AND merit-based. We have a culture that assumes financial aid is only for those who are in need. I saw this at school where people thumbed their nose at folks who had financial aid, while ignoring the fact scholarships and other grants are also classified as such.
People assume the FAFSA and Pell Grants are the only types of Financial Aid. Academic scholarships are as well.
I personally knew folks who had enough money to cover their tuition yet they had financial aid due to scholarships based on their grades. Should I have turned down my academic scholarship due to my folks having good jobs? I earned that money and so does anybody who had the grades or skills to get it.
Just because somebody can afford college tuition doesn't mean they should pay for it if somebody else will. Besides college football is a business. They're out to find the best players but they'll sometimes take on kids because of who their parents are as well.
I can't also not ignore the racial component of this. We're singling out Justin and Diddy saying they should pay the full ride and give back the scholarship that his son earned. Never mind that I can find other examples of this. Tyler Hansbrough's father was a doctor. Matt Barkley's father was able to put him through one of the most expensive schools in Orange County and afford missionary trips.
There's a lot of old money in America that allows people to get breaks. But let some new money try to take advantage of the same breaks and folks are upset. It's the way the game is. It's not fair and it says a lot about how we perceive money, class, race and privilege.
Take that, take that, take that. (c) Diddy
For those questioning a public school's decision to pass out scholarships (considering that UCLA is financially struggling), schools can do whatever they want. It may be public taxpayer money but schools also receive donations from boosters and others. That money can be used however they see fit.
Also scholarships are renewable after 1 year. So if Combs doesn't earn his scholarship, the school can take it away. By the way, that also happened to Romeo, who was let go from USC after two seasons. I say just let the matter play out before judging the school and ESPECIALLY judging Justin Combs, who also has a 3.75 GPA. I've seen schools spend money on far more extravagant things. Who they choose they give money and aid to isn't a problem unless somebody didn't earn it.
Finally, as somebody pointed out on Twitter, UCLA might be recruiting Diddy to possibly give a generous donation in return. That also wouldn't be unusual considering schools are looking out for their best interests. Once you graduate, you barely have time to enjoy your diploma before you get asked to give back. So if Diddy were kind enough to thank the school a lot of rich alumni/boosters do, you don't think UCLA would take it in a heartbeat?
So basically, this is much ado about nothing. It doesn't matter who gets a scholarship because eventually time will tell if they keep it. It's people wanting to take something away from a kid who earned it and question folks who gave it to him months after they did.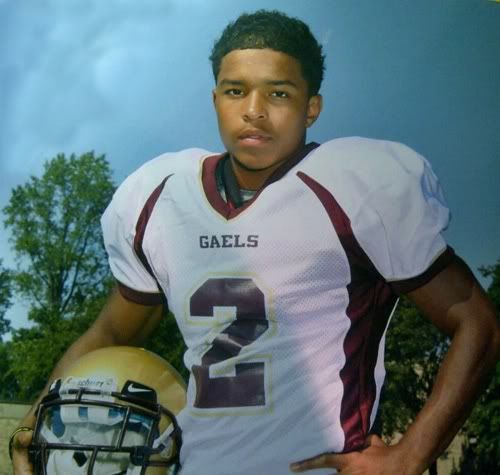 Is Diddy's son any good? Judging from the ratings, he's not ranked as high as others in New York but ratings don't always tell the whole story. Are there kids more deserving of scholarships? Yes, but I can tell you from covering prep sports that coaches don't always evaluate talent well. I've seen not-so-good kids get scholarships due to intangibles or name and I've seen great kids get ignored by major schools only to shine elsewhere.
Time will tell if his play earned it. If not, he'll be like other kids who see their college dreams end. But he should be able to find that out on his own by his merit, not because folks didn't think he earned it due to his name. And isn't that what America is about? Letting hard work and effort determine if you keep what privilege gave you.
Congrats to Justin. Who would've known the little kid from the "Flava in Ya Ear" video and G Dep's
"Special Delivery"
and who had a restaurant named after him will now be a grown adult attending college next fall. Another sign I'm officially old.