The Olympics start today in London and I'm already excited to see what shakes out this time around. Mainly I'm looking forward to see how the first Summer Games is captured in this new social media age. I saw the intrigue and fun from the 2010 Winter Games but now it's going to be even more fun to see the tweets, posts and interaction all around the world.
As far as the Games itself, this is what I'm checking for.
Cullen Jones caught my eye in 2008 when he swam the 3rd leg of that great 4 x 100 relay that the Americans won over the French. As the second Black swimmer to win a gold medal and the first to be a part of the world record, his profile increased over the last four years as he's helped raise awareness for minority children learning how to swim.
I'm a bit biased cause I saw this firsthand when I covered an event he did in 2009 out here at a South L.A. school. Not only was he a gracious interview, but he had fun with the kids and took pride in what he was doing. I was glad to support a fellow 1984 baby and I only wish I still had that story.
He'll be competing in three events (50m freestyle as the leading US contender, 100m freestyle and the 4 x 100) and I'm hoping that he wins individual gold.
Gabby Douglas: The 16 year old dynamo of Team USA's gymnastics is the first Black gymnast with this much attention since Dominique Dawes captivated me in my younger days. She's part of a strong women's gymnastics team that has a good chance to win several individual medals.
Usain Bolt vs. Yohan Blake: Usain Bolt (right) had one of the greatest Olympic performances ever in 2008, winning the 100, 200 and 4x100 relays in world record time. How will he follow that up? By facing stiff competition from his countryman Blake.
Blake's bested him several times recently and since nobody has ever won the 100-200 double back to back, there might be a setup for disappointment. I'm excited to see Blake run but since Bolt hasn't been challenged like this before, who knows how high it could force him to rise.
I hate to say this is more fascinating that the return of Justin Gatlin or Tyson Gay being America's best medal hope but it is.
Allyson Felix/Carmelita Jeter: Two of America's leading ladies in track and field have my eye as they'll be ones to watch in the 200. Both also have close L.A. ties (Allyson attended one of the feeder school my elementary school had and Carmelita attended Bishop Montgomery HS near me in Torrance).
Jeter is arguably the fastest U.S. woman alive, winning the 100m trials. Felix has won silver in the last two Olympics in the 200. I'll be watching both ladies in both the 100 and 200.
Venus and Serena Williams: If they win doubles gold for the 3rd time, go ahead and call Compton's finest the greatest doubles team of all time. If Serena wins singles gold for a career Golden Slam, go ahead and call her one of the five greatest women's players of all time. No pressure or anything but considering both have overcome health issues recently, it's all the more remarkable they are still playing at a high level
Michael Phelps vs. Ryan Lochte vs. history: In a story I wrote after the 2008 Games, I said that Michael Phelps achieved single games immortality but to be mentioned alongside the true Olympic immortals, he has to medal in 3 games.
Should he win 3 more medals, he'll be the most decorated Olympian ever. Should he win at least one gold medal, go ahead and rank him up there with Carl Lewis, Jackie Joyner-Kersee and Al Oerter as the greatest Olympians of all time.
The rivalry with Ryan Lochte will be fun and intriguing in the pool. Since Lochte has won 3 gold (6 overall), he'll also be vying for a position as one of America's most decorated swimmers. So yeah, there's more going than just Phelps' chase with history or the best swimming rivalry since 2004.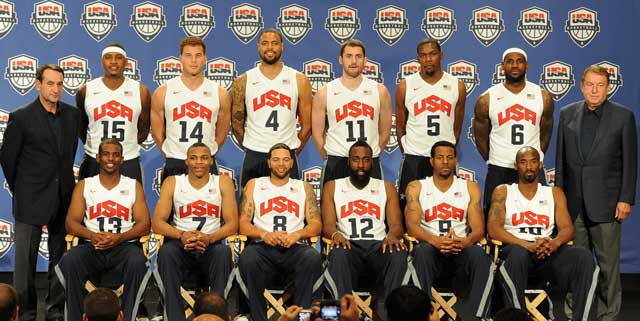 Couldn't find a way to insert Anthony Davis in place of the injured Blake Griffin. Don't worry, you won't see much of him at the Games unless Coach K gets desperate. He's on Christian Laettner status (get the bags, take up space and enjoy a front row seat.)
Team USA Basketball: Duh! Did you really think I'd forget about them? I still have chills watching the 2008 Olympic gold medal game. Of course, I'm hyped to see them as I've always been.
Let's make this quick. Yes, Spain and Argentina will give them great games down the road. Yes, I'm worried about their lack of size. No, they wouldn't beat the Dream Team or the 1996 Olympic squad even. And yes, they'll win gold.
I'm also excited to see what I don't expect. The unknown stories. The breakout stars. The great moments. The Olympics are always about appreciating great athletes and realizing that some wins mean more than others. So for two weeks, sit back, enjoy and get out of the Games whatever you choose.