The first basketball team I really followed growing up was the Orlando Magic. I was 10 years old and just starting to be exposed to sports. With Michael Jordan gone, I was a big fan of Shaquille O'Neal and the way he became the next young superstar. I had just started buying and renting NBA Videos (who remembers the NBA Jam Session videotape hosted by rap band Joe Public).
That 1994-1995 squad had the makings of a champion. You had a great 1-2 punch in Shaq (3rd year) and Anfernee Hardaway (2nd year), one of the league's best shooters in Dennis Scott, the original Magic man in 2-guard Nick Anderson and a key offseason addition in Horace Grant from the Bulls. Yep, I still remember the starting five – the first I ever memorized – and then you throw in the bench of Brian Shaw, Anthony Bowie, Tree Rollins and Donald Royal….ummm on 2nd thought, nevermind.
Like most kids of that era, we loved Penny Hardaway too. A 6-7 point guard who was the 2nd coming of Magic, he could slash to the rack and set somebody up with a perfect dime. My favorite dunk growing up was when he smashed on Patrick Ewing from the wing (flash forward to 2:00 of
this video
)
I still have my 5th grade yearbook where a friend quoted the announcer "Hardaway….OVER EWING!!" cause I tried to copy that dunk on the jungle gym.
And if people could remember just how crazy athletic Shaq was back then. Everything Dwight Howard is doing now, Shaq did it and did it better. The league had never seen a guy that tall, that strong, that nimble since maybe Wilt or Kareem. And never had a tall guy become so marketable – too many giants weren't comfortable in their skin or became the villain. Shaq was arguably the first to get universal acclaim. Of course that led to this abomination.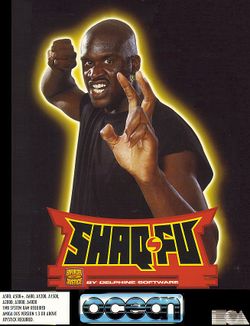 Funny now how it took N'Sync and Backstreet Boys to give Orlando some pop music love because until them, Shaq was the only music star they had (
check the charts
– platinum album, Top 40 single).
That team went 57-25, 39-2 at home, and earned the No. 1 seed in the Eastern Conference Finals. Shaq led the league in scoring (29.3 points), Penny made the All-NBA first team, Grant made the All-Defensive 2nd team and all five starters averaged double figures. I remember rushing home to watch those NBA on NBC double and tripleheaders and being thrilled to see Orlando every time.
They were nearly unbeatable at home and it was ironic they knocked out Boston in the opening round of the playoffs because it was the last series at the Boston Garden. The 1985-86 Celtics had the best home record ever (40-1) and for the Magic to close out the building, it felt like poetic justice somewhat. It was my first time getting acquainted with TNT/TBS' coverage of the games and my first bout with playoff fever.
The semifinals against the Chicago Bulls was interesting because it was Michael Jordan's first postseason since coming back wearing the 45. Apparently Nick Anderson got too comfortable in his hometown and said Jordan wasn't the same old 23 anymore. Course, that was a mistake and before we knew it, rumors were flying about him pulling off the switch. By Game 4, the original 23 jersey was back.
It would be the second and last time in the 1990's that MJ and the Bulls were sent fishing. After reading Playing for Keeps – David Halberstam's brilliant biography of Jordan and his times – Nick Anderson would be the victim of Jordan's wrath next year. For that moment though, it felt like the torch was passed to Orlando.
The 1995 Eastern Conference Finals was definitely an underrated series. Considering the classic Bulls-Knicks and Bulls-Pacers meetings, you wouldn't think about it but it was pretty good. I didn't realize Penny was pure murder in Games 1 and 2 (14 and 15 dimes!) maybe because I remember Shaq dominating. But I do remember being pissed I missed Game 4.
I will swear it til I die, that was
one of the greatest endings
to a game people don't talk about it. It all happened in under 17 seconds. Brian Shaw hits a late 3, Reggie Miller comes down and hits another one, Penny hits one with under 5 seconds left, and then Rik Smits (Rik Smits???) hits the game-winner. I remember SLAM doing a write-up on its now-defunct last page devoted to buzzer beaters and it was amazing. The series went 7 games and like anybody, we loved the Lil' Penny commercials hyping it up.
Then Game 1 of the Finals against Houston. Magic were up 20 and all was good. I made my lil' sign on notebook paper and was ready to see a coronation. Then nobody could guard Kenny Smith from downtown. Then Anderson couldn't hit a freaking free throw to save his life (four point blank misses that spawned two years of stories).
I remember laughing when I saw "The Big Green" soccer movie and the kid that missed a goal was named……Nick Anderson. Disney was cold for that. And then I still see Clyde Drexler trying to shoot that jumper over Shaq and NOBODY boxing out Hakeem Olajuwon for the tip-in rebound in overtime. Game, set and match.
(Irony – Anderson finished with 22 and 11 boards. Played 50 out of a possible 53 minutes. But what do we all remember? Yeah his FT-line of the night…0-4).

We all know what happened next. Shaq and Penny got swept – a series where Shaq admitted defeat and being outplayed – and the Magic dynasty would never happen. 60 wins in 1996 got them swept by the Bulls swept them in the conference Finals and Shaq went to L.A. To be honest, that team really had no reliable bench looking back at it. B. Shaw was a great 6th man and Donald Royal was serviceable but nobody else could really do much.

But I'll never forget that team. I thought it'd be the start of something great but in fact it turned out to be a fairy tale with an unhappy ending (at least in ORL). Penny turned out to be the last of a dying breed of two tall point guards. Jalen Rose never got the chance to be a point guard and now every point guard has to be small, quick and/or strong. Pretty much the Jason Kidd/Isiah Thomas mold instead of Magic.

One of the boards on Okayplayer.com said that this was the greatest team never to win a title. I'd argue they were one of the best teams in the 90's never to win but looking back on it, their bench was suspect. But they were the first team that I loved and this NBA Finals will give a great flashback on that.