Who would've thought that turning off the lights and part of the power would've flipped a switch and turned this Super Bowl from a rout into a thrilling showdown? The city that never lacks excitement had one more great sports moment to add to its history and what a win for the Baltimore Ravens!
Joe Flacco made himself a very rich man in victory. 11 touchdowns, 0 INT's this postseason means he's validated himself as a franchise quarterback. As a free agent Super Bowl MVP, he just earned his huge paycheck and showed why I call him Pretty Flacco or now Trinidad Flacco. "Don't Believe Me, Just Watch"
Jim Caldwell deserves a ton of credit as well. He turned Flacco loose calling the plays and as offensive coordinator, he was the driving force of this turnaround. The coach who lost Super Bowl XLIV, was fired from the Colts last year and didn't get offered a head coaching gig last month found redemption in New Orleans. I'm happy for him because he got back to the mountaintop and now has another ring on his resume. Memo to the NFL, he's living proof the Rooney Rule must be expanded to coordinators.
Cheers to Ed Reed as well. What sweeter way for him to come home to Louisiana than getting an interception, his 9th all time in the postseason. His emotional NFL Network interview about what this moment meant to him and the team and knowing that his Ravens future is in doubt is why he's first class as a player and person. He's as good a defensive playmaker as I've seen in my lifetime and if this was it, what a way to go out.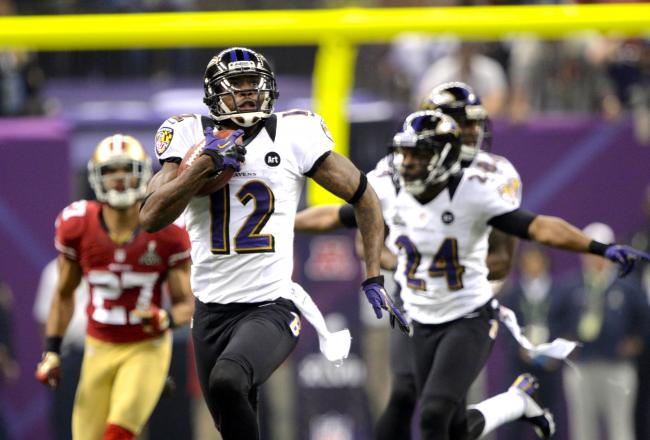 If you ask me, Jacoby Jones made a strong case for MVP. Two incredible scores, including an unbelievable 108-yard kickoff return. A special tip of the hat to him considering he made some of the biggest plays of the postseason.
I need to give props to the 49ers because when this game looked over, they came back like a totally different team. Just like my buddy James said on Twitter, no lead was safe and a 22-point lead nearly evaporated in the 3rd quarter alone. It's why I believe Jim Harbaugh has done an incredible job as a head coach and he should be commended for restoring the 49ers luster.
Five yards from potentially taking the lead. It had me nervous in my seat and for getting back to that point, they should be praised. Oh and Colin Kaepernick? 364 total yards (302 passing) says that he's gonna be the future along with Russell Wilson, Cam Newton, Andrew Luck and Robert Griffin.
Ray Lewis can ride off into the sunset the same way Michael Strahan, John Elway and Jerome Bettis did. A career worth remembering, a redemption tale worth marveling at and another Super Bowl to the city he's represented as well as he's represented Miami. What more can I say? He's got a great life ahead of him and I know that we'll all be looking forward to his Hall of Fame speech in five years.
Speaking of which, congrats to this year's Hall of Fame recipients. One of the greatest Cowboys ever in Larry Allen, the great Bill Parcells, the outstanding Cris Carter and one of the most imposing sackmen of my era, Warren Sapp. And I can't forget one of the greatest offensive linemen of his era and a proud UCLA Bruin: Jonathan Ogden.
(Oh and my favorite Super Bowl commercial? The Budweiser reunion between the man and his horse. Hands down. A close 2nd would've been the old people joyriding and wilding out if isn't wasn't for Taco Bell. Other than that and Deion Sanders as Leon Sandcastle, the commercials were pretty average/uncreative this year. None may have been worse than that fish commercial using "No Diggity". That GoDaddy ad made me give props to that dude but that was after I was grossed out by the kissing closeups.)
It's been a great football season. But unlike some folks, I won't shed any tears that it's gone. It's time to dive fully into hoops and pray that my Lakers somehow crawl into the postseason.