Tomorrow is National Signing Day and I'm not completely giddy about it. It's been a conflicted issue for me since I stopped writing full time as a reporter in 2010 and as I've seen NSD become an all-day spectacle, I start wondering why. I wrote
this back in 2011
expressing why I think NSD can be misleading and two years later, I feel even more jaded about it.
I love NSD because it's a kid, his family and friends celebrating him going to college. I've always celebrated when an athlete or student makes that decision because it's a big moment for them to determine the next few years of their life. When you get that acceptance letter in the mail, you feel like you've made it. When an athlete picks a school, they've made it.
I don't even mind how huge the celebrations are. We should celebrate college decisions as much as we celebrate prom or any big moment in a kid's life. Schools should celebrate it whether it's academic or athletic.
I respect how the kids and families make their decisions. How they have to wade through the process. How kids earn their scholarships through their hard work/discipline and I especially love those seniors who had to work hard for that scholarship that final year.
What I don't like is the meat market that NSD has become. It's grown into a monster that has exposed fans are selfish jerks, the problem with the letter of intent and colleges treating it more like a business.
My first experience with NSD was in 2008 when I did a story on it and I interviewed UCLA's Johnathan Franklin beforehand. We had talked before for a feature I did on him but during our conversation, I remember asking if he was still committed to UCLA since they had changed coaches. He was hesitant cause he didn't want to say anything wrong and me at 23, I felt completely bad putting him on the spot.
Granted, it all worked out and he became UCLA's all-time rushing leader. But in hindsight, I wished I would've just asked him how the process is coming along and how difficult it was. Nothing worse than a reporter trying to jump the gun and force a 17-18 year old kid to say something he's not ready to say. It wasn't a bad ethical question but I felt bad still.
That was also the year Terrelle Pryor was the most recruited player in recent history. Rivals and other sites were around but they weren't the huge conglomerates they are now. Recruiting was still major but it wasn't the big firestorm yet. Now a kid is probably so burned out from being asked about recruiting it stops being a fun process where they should think deeply about.
Not to mention the times when colleges can muck up recruiting with scandals, scholarship limits and flat out
misleading kids
.
I still remember running this picture in 2010 at my paper. The then No. 1 player in the nation, OL Seantrel Henderson committed to USC and Lane Kiffin but didn't sign a letter of intent . Then the NCAA came calling to punish USC and Henderson decommitted and went to Miami.
As for fans? Most of them are selfish because they want kids to attend their school. If they come, they get praised. If they turn them down, some throw sickening and vile things at the kid for making a poor choice. Maybe it's me but I'd rather appreciate the ones who sign for your school and then wish the others well as they continue their careers.
We get so caught up in kids saving a program that they forget they are kids. Picking a college is a hard choice. I feel disappointment but when that leads you to hurl insults at a 17-18 year old kid, check yourself. Death threats, Twitter hits and all that make NSD an emotional avalanche that kills me. We're all better off celebrating those who come and leave it at that.
I also don't like the huge media coverage surrounding it. Local reporters do a great job of tempering their coverage and not going insane but as more and more outlets cover recruiting, it becomes too much of a circus. I'm not knocking the good folks I know who cover it and do great work. But the whole process feels overbearing as more and more try to get in on it.
At some point, NSD has become about getting the highest rated kids, discussing their advantages, having coaches talk about it. Ratings are great but as I said 2 years ago, it's not about your star ranking but your work ethic and taking advantage of the opportunity. Robert Woods was a great example of a 5-star kid who earned success at USC because of how hard he worked (a trait I and others noticed when he was in high school.)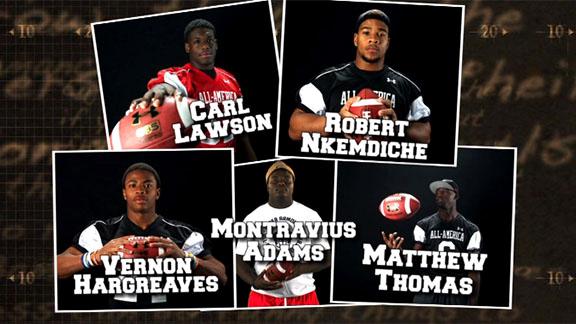 Some of the young men who will decide their future on Wednesday
On the backburner is celebrating folks who are continuing their career and will grow wherever they are. The pageantry feels disturbing as the fun is sucked out for the kid and their family as it becomes more about big picture. It's part of the conveyor belt mentality and maybe part of me feels even worse about them joining a system that will benefit and exploit them at the same time.
At my core as a HS sports reporter/observer, I try not to lose sight of that small picture. I'm excited where every local kid I see or read about goes and that's what tomorrow will be for me. Of course, I'll see how my Bruins shake out and how many kids USC can pull. But at the heart of it all, it's one of the last times a kid will have that time to celebrate to spotlight on him before he becomes one of 85.