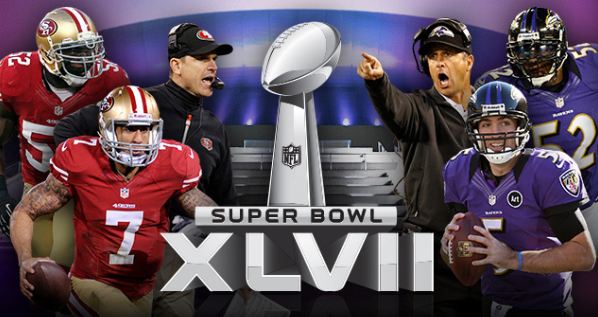 In between me being jealous of my media brethren and sisthren partying and occasionally working in New Orleans, there is a game we all want to see Sunday. And if you ask me, it's hard to predict and figure out what could happen.
The red-hot 49ers and their red-hot QB Colin Kaepernick, the 4th Black signalcaller to appear in the Big Game. The surging Ravens powered by an incredible postseason by Joe Flacco and the last game of leader Ray Lewis. Who to choose, who to choose.
Oh yeah, did you hear both coaches are brothers? Don't think I heard that enough yet.
Anyways, picking this game is pretty hard. My inner Cowboys fan wants to say no to San Francisco, the 90's rival I grew up despising and respecting. Yet they have several factors.
1) Randy Moss getting one more chance for that Super Bowl ring.
2) A very, very good defense that's due for a big moment.
3) The Bay Area has been hot for sports. The Giants have the World Series and the Niners could ride that wave.
4) My alma mater's former coach Jim Harbaugh who is approaching that shortlist of great college and pro coaches. As I've stated before,
I've rooted for him personally
and I love seeing USD show their appreciation for him this past week with this advertisement.
But ultimately, I'm picking a team based on a promise I made to a friend when Baltimore got by the Colts and Denver. I rolled with the Ravens then and I'm rolling with them now. I think Pretty Flacco has one more great game to show everybody that he's made that leap to a great quarterback. I think Jim Caldwell will get his due as a rare Black offensive coordinator who sparked the Ravens' offense in drastic ways.
I think Baltimore has plenty of emotion pushing them to this point. Ed Reed playing in his first Super Bowl, Torrey Smith capping a year where he's emerged as a great deep threat and dealt with the death of his brother, and of course, Ray Lewis' last game. But I also think their defense is back to playing that tough style they've been known for.
My prediction: Baltimore 31, San Francisco 24. It's going to be a great game like their Turkey Day meeting back in 2011.
Other predictions.
- Frank Gore and Ray Rice will have under 100 yards.
- Colin Kaepernick will throw and rush for a TD.
- Ed Reed will have at least one interception.
- Ray Lewis will have one sack.
- We'll hear deer antler spray mentioned at least 2X
- We'll only hear about that awful "Blind Side" movie once
- Beyonce's halftime show will be one of the best since Prince in 2007 - say what you will, but she knows how to perform, esp. with Destiny's Child being reunited.
- Joe Flacco will be named Super Bowl MVP and if not, a defensive player on the Ravens will get it.