For those living under a rock, the Miami Heat have rolled off 23 straight wins as they beat Boston inside TD Waterhouse. They're in sole possession of the 2nd-longest streak in NBA history and how they've played during it is one more sign of how remarkable they've been this years.
Permit me to drop a few points I've observed.
As I've said before, the one thing that marvels me about the Heat is how locked in they are. They may be trailing in their games but they find a way to dig in, man up and overpower teams. They've gotten a few breaks - i.e. LeBron James' game winning shot to beat Orlando in a game they almost lost - but it's been a streak of dominance, not flukes.
That said, it reminds me to say that the 2007-08 Rockets that won 22 games remain one of the flukiest, strangest streaks in sports history. Even without Yao Ming for half of that streak, it's a reminder that being the hottest team doesn't mean you're one of the best teams. That streak helped them earn the No. 5 seed and saw them get bounced in the 1st round.
The way LeBron has played during the streak has been ridiculous. The game-winning jumper tonight vs. Boston to cap off a stellar 4th quarter performance. The game-winner vs. Orlando. The 9-points, 3-assists in the 2nd OT to defeat Sacramento. More reason to say my 4 favorite words. Hand. Him. The. MVP.


Speaking of the Eastern Conference, how weak is the rest of the conference?? The 2nd best team, Indiana, is 11.5 games behind Miami and got beaten at home by the Kobe-less Lakers. The 3rd best team, New York, is sputtering with old age issues. The rest of the East is so middle of the road that only 6 1/2 games seperate Indiana from No. 8 Milwaukee.
As for comparing Miami to the West? They destroyed Oklahoma City in their house on Valentine's Day. The Spurs? We'll see when they meet on March 31. But there's no other team in their galaxy. Plain and simple.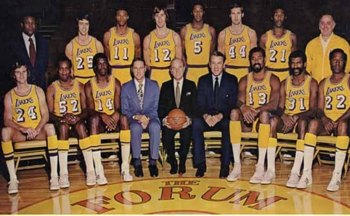 The great 1971-1972 Los Angeles Lakers who won 33 in a row starting the night that Elgin Baylor (22) retired. Current Heat GM Pat Riley (12) was on that team so he knows how to push Miami to keep them focused on repeating, not just streaking.
Now for the million dollar question that keeps getting asked lazily. Will the Heat lose another game? Of course they will. Only somebody desperate for attention would dare ask that question cause it's easy fodder for discussion. If you want to go smart: Here's 2 questions you should ask. How many games will the Heat lose the rest of the way? WHEN (not if) will they lose another game?
Here's their remaining March schedule: at Cleveland, home vs. Detroit and Charlotte, at Orlando, at Chicago (who I think should still be without Derrick Rose), at New Orleans, at San Antonio. My guess is they should win at least the first 3. Orlando was their toughest game so they might lose to them. That means I expect Miami to push the streak to 26.
But the better question is the first one. I don't see Miami losing more than 8-10 games between now and Game 1 of the NBA Finals. They're the most focused team I've seen since the 2007-08 Celtics or maybe the 2000-01 Lakers, who flipped a switch on April 3 and went 23-1 on their way to their 2nd NBA title.
The 1991-92 Bulls are also regarded as perhaps the finest of the first three-peat. What do they have in common with the 00-01 Lakers? Champions looking to repeat. Miami's in the same boat and I hope we can appreciate this streak as one more notch of their dominance this season.