In his 17th season, Kobe Bryant is still one of the 10 best players in the league. That says a lot.
I hinted at this a while ago in
my recent Lakers video
but I think we need to stop and remind ourselves what we are seeing with Kobe Bean Bryant in his 17th season.
We've seen Kobe do things that make us think Father Time hasn't grabbed him yet. Back to back 40+ point and 10+ assist games, something no Laker had done once in the last 40 years. His clutch 3-pointers against Toronto to send that game to OT and game-winning dunk had me thinking he was wearing No. 8 again.
He won NBA Player of the Month for February and NBA Player of the Week this past week. Not much to gloss over except Kobe is doing this in YEAR 17. 17-year veterans shouldn't be Top 5 in scoring. 17-year veterans change up their game to stay alive but rarely does it them and their team even deadlier.
Kobe's been an underrated passer but right now, we're seeing why his IQ is as sharp as anyone. He's running the Lakers offense better than Steve Nash is and it's a big reason why the Lakers have saved their season so far.
Just for perspective's sake, I did some digging after I saw Robert Littal from Black Sports Online question if anybody's been this good this late. The only comparison that I could think of? Kareem Abdul-Jabbar, who had a remarkable 17th season in 1985-1986.
Peep game: 23.4 ppg, 6.1 rpg, 1.6 blocks, finished 5th in MVP voting and made the All-NBA 1st Team. The rebounds and blocks were the worst of his career but he was still an efficient scorer at 38 years old. This was Cap's last great season but just seeing this in the context of what Kobe is averaging is astounding.
Karl Malone also had a solid 17th season too. He was 9th in scoring (22.4 ppg), 7th in steals, while putting up 8.6 rebounds per game. But besides that, nobody in NBA history can compare to Kobe being this efficient offensively and the fact I have to reach to the two highest scoring men in NBA history says a lot.
More guys who've done pretty amazing things in Year 17 and beyond.
- Brett Favre: 4,000 yards and led Green Bay to a 13-3 record and the NFC Title game in Year 17 (2007). We know what he did in Minnesota in Year 19: 33 TD/9 INT/4,202 yards and the NFC Title Game.
- Jerry Rice: 83 receptions/1,100+ yards and 92 receptions/1,200 yard seasons in Year 17 and 18 (2001 and 2002 with Oakland)
- Ray Lewis spurred Baltimore to a Super Bowl in January.
- Ted Williams: Led the majors with a .328 batting average along with 26 HR's and 85 RBI's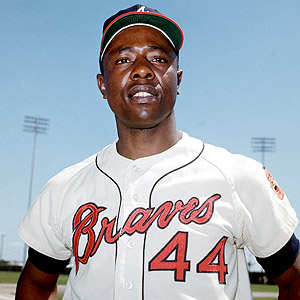 - Hank Aaron: 38 HR's/118 RBI's (Year 18 though, .327 BA/47 HR's/118 RBI's)***
- Ken Griffey Jr.: .301 BA/35 HR's/92 RBI's [Why did he have to get hurt?]
- Nolan Ryan led the National League in strikeouts/earned average in his 18th season and led his respective leagues in strikeouts from his 21st-24th seasons.
- Mariano Rivera: 44 saves (2011 - 2nd in the AL/4th highest season total in his career/oldest player in the AL)
- Wayne Gretzky had 102 points (23 Goals, 79 assists) in his 17th year. 12th in the NHL but the next two years, he was top-5 in points.
Due to football's violent nature, it's easier to do this in baseball than any sport but I had to reach back to all-time greats to show how hard it is to be elite this late in your career, especially in hoops.
This isn't stannery or me being a Lakers fan. I said in 2011 that I figured
Kobe was going to start declining in Year 16
. I've been frustrated with Kobe's shot selection this late in his career as much as anybody. Yet this is me as a basketball fan realizing that I have to just sit back and just appreciate a great player evolving and being effective. Not just as a scorer but as a facilitator.
We are in the middle of seeing a NBA guard doing things this late in his career that we've never seen before. If last year was impressive with a lockout shortened season, there's few words to describe what could happen if this new Kobe drives this team into the playoffs.
***Hank Aaron's stats stand out even more when you consider what Barry Bonds did in his 17th season (.370 BA/46 HR's/110 RBI's - 2002). If we believe Bonds did that artificially did that, then how much more impressive is it that Aaron had similar power numbers at the same stage.