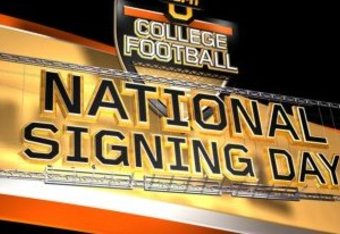 Having covered high school sports for the last four years, there's no bigger sign that football is King in America than the growing national/local coverage of the 1st day kids can sign a letter of intent to play college football, which comes up on Wednesday. ESPN devotes a whole day to it and locally, we keep track of all the kids signing and the surprises that could happen.
I admit I'm happy for the kids because any time we can see kids announce where they're going to college, it's a beautiful feeling. I had pride when I got my college acceptance letters senior year and my friends always talked about where they were going. I still feel that pride when I hear HS seniors announce where they're going.
I don't mind the spectacle it's become but I'd also rather see local papers celebrate kids who get accepted anywhere just to let them know they matter. I'd also like to see schools celebrate their students who get accepted to colleges and universities for academics which most already do.
People worry about kids getting bigheaded on a day like this. I really don't because at some point, they'll be humbled in college and that's when we'll see if they can make it.
But as history has shown, it doesn't matter how many stars are next to your name because college isn't about physical gifts alone. It's about gifts, work ethic, mental fortitude and commitment. I can think of kids I covered in 2007 who I thought were surefire stars but never panned out but I can also think of kids who did (UCLA's Rahim Moore and Johnathan Franklin for example)
Here's some examples.
Nick Fairley (Auburn) - the possible No. 1 pick in the NFL Draft as the best defensive player in the country. Coming out of HS: Ranked the No. 32 offensive tackle in country and unranked nationally.
Clay Matthews (Green Bay Packers) - All-Pro this year, possibly the best USC pro player since Troy Polamalu. Coming out of HS: Had to walk-on at USC because he wasn't recruited.
The lowest-rated recruits tend to have more drive because they have a chip on their shoulder. As great as it is to get the big names, you need some guys who'll work hard to prove themselves every week because their reputation wasn't high coming in.
Of course there's a flip side where top players maintain their reputation and build on it with great college careers. DeSean Jackson (Eagles), Julio Jones (Alabama), Brian Price (Tampa Bay) are just three highly recruited high school players that had standout college careers.
Rankings are always hit or miss - they measure talent and how you play against competition. But it's always the immeasurables that determine if a player will succeed against faster players, more demanding coaches and more complex schemes.
Just remember that as we eagerly see what our schools are going to do Wednesday. And oh yeah, class rankings won't mean anything until 2-3 years from now when those guys actually produce. Enjoy!