August 30th is a day that always means a lot to me. Thanks to Twitter, it now has two meanings (or 3?) and amidst a day of reflection, I was able to think about this a bit closer.
8/30/02. The
10th anniversary of the day
I moved into my dorm to start my college years. I woke up in a hotel in La Jolla with clouds in the sky and looked outside the window not sure what to expect that day. I had nerves and butterflies because while I knew folks who went to college, I wasn't close enough to fully experience that lifestyle. All I had were my ideas and dreams.
My family packed in my Dad's BMW and we drove down the I-5 to the University of San Diego. On my headphones, I was listening to Incubus' "Morning View", one of the albums that put me in the mood for being away from home. We drove up to Maher Hall and saw all the folks unpacking their cars and shuffling boxes and suitcases all around. I stepped out nervous but excited because I was finally here. Finally a college kid.
We went up to the room on the 4th floor where I met 1st roommate Chris and his parents. His Texas drawl and parents' Southern warmth made me feel at home since my mom's family is from San Antonio. Soon I'd meet my other roommate DJ and his mother. As the room became filled with boxes, gear and other things, I realized that this would be my new home.
iRep USD 24/7/365. (Photo by Evan Barnes - 2010)
And heck it couldn't be better knowing I had girls across the hall. Cause let's face it, a 17-year-old kid who graduated from a class of 15 didn't have much eye candy.
I eventually met my R.A. Marc, who'd go on to become a great friend through college and beyond. The day eventually became sunnier and the family would take a picture on the balcony. This would become the last family picture of me, my sister, mother and Dad.
That night I wrote a poem on my desk trying to capture the emotions of that first day. It's still one of my favorites - short, sweet and yet full on the anxiety/excitement.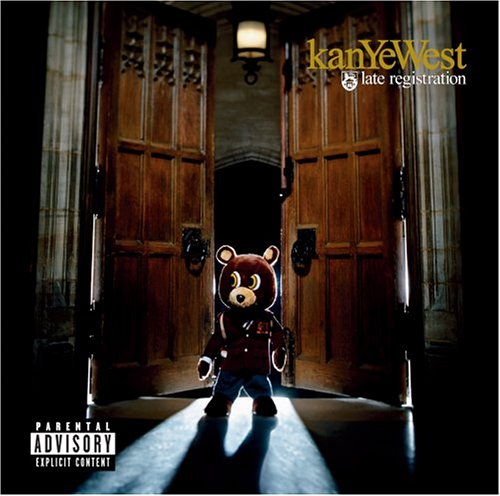 Three years later, a friend and I drove to Best Buy for another great day in my music education. During lunch, we purchased "Late Registration", Kanye West's 2nd album and one of the most anticipated albums of my college years. We jammed "Heard Em Say" in the car but when "Touch the Sky" came on, I knew the album was going to be something special with those horns.
It's still my favorite Kanye album production wise and lyrically some of the songs have stuck to me for years. I was excited to hear Jon Brion added a bigger sound and those songs were big coming out of the speakers. The conscious was still there in "Crack Music" and "Diamonds". Common was still on a high from his "Be" album and dropped gems on "My Way Home". I also had the poster up in my room that came with the album.
The album will always stand out for being the first album Jay-Z and Nas were on together since their feud. Both of them killed their features - "Diamonds" remix (back when retired Jay-Z was killing features) and We Major (still one of my 10 fave Kanye songs) - and it gave me hope that their feud was starting to end. "Addiction" still resonates as much with me as it did back then.
And of course, the song that launched a million dances. "Gold Digger." When I saw him live on that tour, he was so happy performing that and it was contagious to everybody who knew that song was genius and timely in the wave of the Ray Charles recreation via Jamie Foxx.
"Celebration" became my anthem when I graduated and it was the first song I played in my room after my last final. But that day - August 30 - I'll remember being excited to hear Kanye's 2nd album and hearing an artist grow into the ambitious person he is now.
Now I'll remember August 30, 2012. While still feeling sad about my friend's mother passing away the night before,
my tribute to one of my favorite radio shows
was well received by many folks. The host, Bomani Jones, shouted me out. Many fellow fans of the show interacted with me to show their appreciation but also share stories.
It warmed my heart because it allowed me to smile and share in happiness instead of staying in the afterglow of grief. Today, I helped to briefly resurrect The Morning Jones and I'm grateful for the folks I chatted with on Twitter. Grateful to hear show producer Corey Erdman say how much he enjoyed it. It was about the TMJ family and I'm glad that something I spent months on and the last few days editing was received well.
August 30th will be a day I remember well. A day that I started my new life, enjoyed a sonically stunning album and paid tribute to a show that opened my mind/eyes as a sports and music fan.