It's about to be a good year to be a Lakers fan. Assuming everybody stays healthy - all eyes on Kobe's foot tonight - it's the most exciting team I've seen since 2003-04. Since we all know how that went, I'm also tempering my expectations and not talking championship yet.
But since Oklahoma City decided to blow up their core in the name of money, I'm saying the Lakers will be back in the Finals. By the way, Oklahoma City deserves props for not only reminding me of the 1995 Orlando Magic once again, but for scaring themselves into worrying about money instead of the immediate future.
At least the 1995 Magic had a chance to follow-up their Finals run with a great 1996 season that ended at the hand of the Bulls in the Eastern Conference Finals. Sam Presti robbed this team of that chance by sending James Harden for a shoot-first old Kevin Martin, a talented rookie in Jeremy Lamb and draft picks. He also had the presence of mind to do this two days before the season. Genius!!
So the Lakers only have to worry about themselves and pray that everybody gels together. Steve Nash will do that just fine. Dwight Howard just has to be healthy and he'll dominate on the defensive end/rebounding side. Kobe just has to relax and stay healthy. Pau Gasol has to play like he did during the Olympics.
More than anything I'm praying this bench finds some production. Jodie Meeks and Antawn Jamison are guys I can't wait to see on the court and here's hoping Steve Blake/Devin Ebanks earn their playing time. That 0-8 preseason record makes me slightly concerned but only in a "Nothing-to-panic-over-but-if-things-go-South-that's-why" way.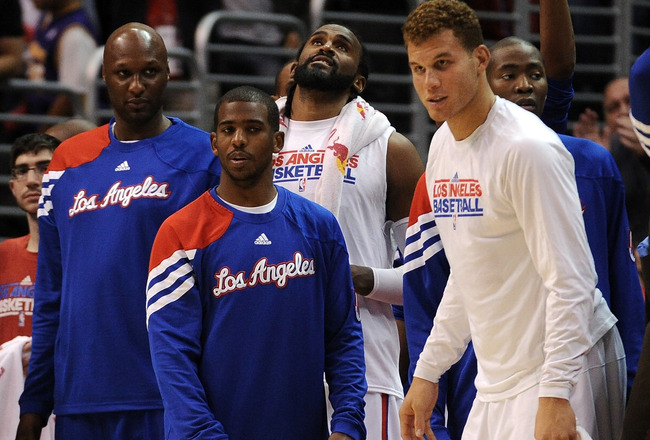 Across town, Chris Paul has attracted more players to his magnetic circle of trust. Grant Hill. Jamal Crawford. Matt Barnes. Lamar Odom's return. Almost makes me think the Clippers are going to be good for one more year. Which they are BUT there's a few concerns.
1) Donald Sterling is still the owner. 2) Vinny Del Negro is still the coach. 3) Blake Griffin has to show that he has a jumper and a better rebounder. 4) DeAndre Jordan has to show that he can do anything more than 3 feet from the basket.
Eric Bledsoe might be a sleeper 6th Man of the Year candidate with Crawford so the Clippers will be fun to watch. But those what if's hang over their head as long as CP3 hasn't decided where he's going next year.
Speaking of what if's - What if Amar'e Stoudemire's knee is damaged beyond great repair. He's going to miss 6-8 weeks with a ruptured cyst after being feared lost for only 2-3 weeks. The great Knicks experiment looks like a nightmare all a sudden as it appears Carmelo Anthony will have to do more shooting. Fortunately Ray Felton and Jason Kidd will be happy to share the rock.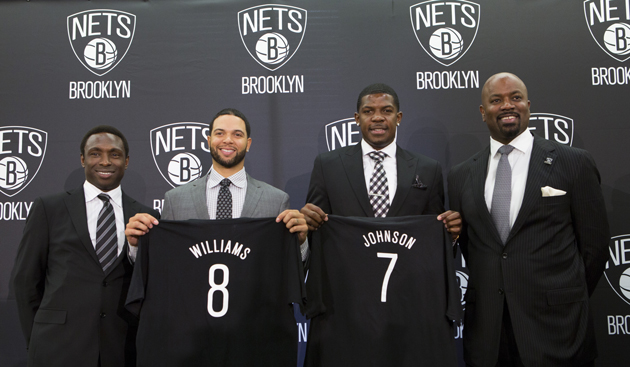 "In a couple years baby, Imma bring you some Nets" (c) Jay-Z in 2007 on "Hello Brooklyn"
What if the Brooklyn Nets are the NBA's version of the Miami Marlins? A ton of hype for a new arena, new uniforms and new players (Joe Johnson). A flashy spokesman in Jay-Z. A great location for the folks in Brooklyn. All for a team that's at best No. 5 in the East behind the Heat, Celtics, Sixers and Pacers.
I don't mind it too much in context. It's reason to be hyped as I remember how happy I was when the Lakers moved to Staples Center. The Nets will be much better but as long as we don't forget who they are it's all good.
Boston keeps reminding me who they are. The last two years, I've assumed it was their last hurrah. The last 2 years, they told me shut up and watch. So as they replace Ray Allen with Jason Terry and return a healthy Avery Bradley, I'll just say don't be surprised if Boston hangs around further than we expect.
Expectations for Houston? Jeremy Lin will outrage us being voted into the All-Star Game. James Harden will fit in just fine. And the Rockets will still not be a playoff team. Just like the Bulls, who will be patiently waiting for Derrick Rose to recover from tearing his ACL. Please don't rush though Agent Rose, the future is dependent on it.
Now starting for your Philadelphia Sixers, Frederiiiiiiiiiiiiick Doug(oh wait), I mean Andrewwwwww Bynum.
Golden State will be crazy good on paper. Steph Curry (if his ankles hold up), Klay Thompson, Harrison Barnes, Andrew Bogut, Richard Jefferson, Draymond Green (my rookie sleeper), the ageless Richard Jefferson. I want them to be great. They should be a playoff team this year. Or at least set up for a playoff run in 2013-2014.
But all this talk doesn't matter because one thing is clear. If you don't think Miami will be repeating as NBA champions, listen to these words. Who Will Survive in LeBron's NBA? LeBron and the Heat want another ring. They won with pretty much the same roster and added Ray-Ray and 1-dimensional shooter Rashard Lewis.
You don't think the Don Pat Riley didn't remind LeBron/Chris Bosh that 1 ring is great but 2 is even better? That as great as one ring is, ask their boy Dwyane Wade how two feels? That idiots will try to say they didn't do it in an 82-game season?
LeBron James is Neo and as we all remember from those two awful Matrix sequels, Neo couldn't be stopped. Now that LeBron knows what he's capable of, he's going to be reminding everyone of that. If last year was his impression of 85 Magic/91 Jordan, this could be 86 Bird/87 Magic/92 Jordan/01 Shaq when they left no doubt they were the kings of their castle.
It's good to be the King. It's better to be a hungry King, which LeBron is.
So even though I'm hyped about my Lakers and our new upgrades at two of the most important positions and wondering what the freak OKC was thinking, I'm a realist. We're living in a hot, hot world and the Heat are only going to make things hotter. Which is why they're going to repeat in June 2013.