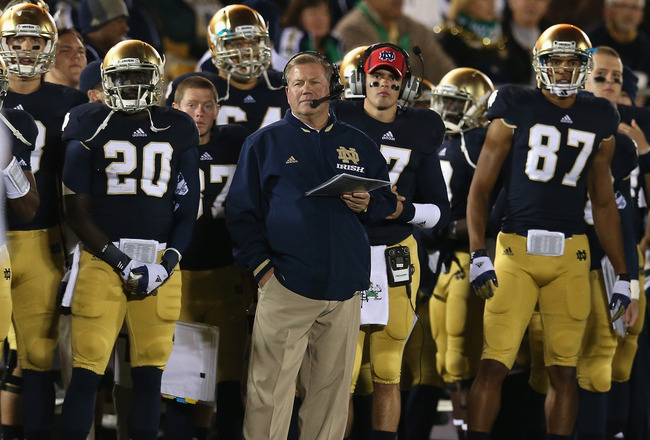 I guess it's gotten too much to ignore. Notre Dame keeps on winning and we have to keep pretending they are still relevant because of their legacy.
I keep hoping teams will knock them out and remind folks that this isn't the 80's or early 90's. But each week, they keep winning and the old echoes of South Bend keep getting louder and louder.
They beat Michigan State. They made Shoelace Robinson look silly in defeating Michigan. And now, they destroyed The U. A game that had to make all the former Miami players sick as the Irish scored 34 unanswered points.
This is the highest Notre Dame has been ranked since 2006.
5-0 is 5-0. I respect it. But I don't have to like what it represents. Some Notre Dame fans getting high and mighty and pretentious. Media types saying Notre Dame is back.
Full disclosure. One of my last college friends was a proud Irish fan. A good acquaintance from college is a proud Irish fan. I don't hate all fans. But I guess I dislike them the same way people dislike the Lakers, Yankees, Duke and all those hateable teams.
I guess I'm just hating on a program that gets a ton of love but hasn't done much in 20 years to back it up. Maybe it's also biased because private schools tend to get a lot more love because of what they "represent" as what's right.
(Full disclosure 2: I attended private schools all my life. I've covered private high schools and am impressed by the passionate fanbase but bummed they do get a lot of perks that I wish public schools could have.)
Besides the Brady Quinn years, I see more people wishing the Irish were great than actually admitting they aren't what they were. Part of me is still a bit salty about them firing Tyrone Willingham, their first Black coach, a year before his contract ran out.
Since I've been aware of college football, Notre Dame got killed by Oregon State and Chad Ochocinco in 2001, got ran on by Ohio State in the 2005 Fiesta Bowl, barely beat UCLA the following year and got Bush Pushed by USC. They haven't won a BCS Bowl game (0-3).
And yet here they are, led by linebacker Manti Te'o - the best Notre Dame player since Quinn (all due respect to Golden Tate) and a defensive terror.
I'd say have faith in Stanford bringing them down to Earth. The problem is Josh Nunes playing his second road game as quarterback after he lost his first. Stanford's physical like Notre Dame but I can't see Nunes succeeding against the best defense he'll see all year.
I guess we'll see Saturday. They got Oklahoma and USC down the road but for now, I ask for restraint before assuming the Irish are back to relevance.
Quick Tidbits
1) This is why it'd be a great idea to do polls in October. Here's the AP
Preseason Top 10
and here is the
Top 10
today. USC, Michigan, Oklahoma, Georgia and Arkansas aren't Top 10 right now. Kansas State,
Oregon State, West Virginia, Florida, Notre Dame and Ohio State are.
3 more Top 5 teams lost Saturday. Yet somehow LSU didn't fall out of the Top 10 for looking suspect for the third straight week and finally losing on the road. Remember I told you about USC falling deep after losing at Stanford. Good ole SEC protection.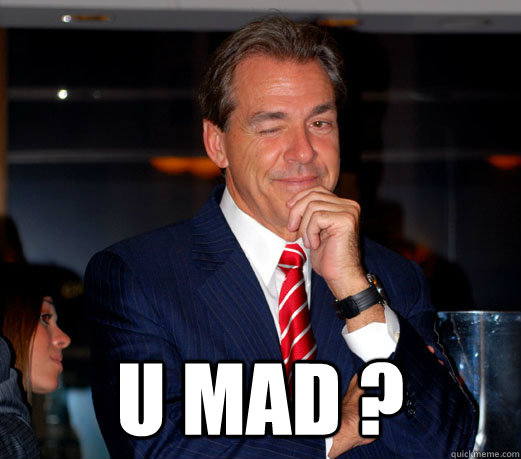 Yes I'm mad, Coach Saban. But at least y'all are a clear No. 1.
But I guess we have a better sense of who's Top 10 worthy right? Well sort of, but better than before. At least I respect the BCS poll coming out next week for that reason alone. That'll be the only praise I have for that system.
2) Very impressed with Geno Smith's accuracy and pocket presence against Texas. Y'all can have that overrated QB down over at USC. Give me Geno and his arm putting up intelligent passes despite doing it on sketchy defenses.
And there will be no Heisman talk on the Gumbo for a few weeks. Geno might be the frontrunner, but awards aren't won in the first month of the year. Let's see how folks do in conference a little bit.
3) That said, Ohio State's Braxton Miller is having a great season (1,823 total yards, 17 total TD's) as he's finding out what Alex Smith/Tim Tebow learned. Being Urban Meyer's quarterback has incredible benefits. If only Meyer was around when Terrelle Pryor was there....
Sidenote, I didn't think parents were still naming their kids Braxton? I haven't heard that name since The Jamie Foxx Show and Toni Braxton's last big hit.
4) Why can't Alabama face South Carolina or Florida til the SEC championship? The SEC West, led by LSU, looks like a joke and I think Alabama is going to look unbeatable for a good while.
Make sure you watch my
weekly video recap of UCLA/USC
. Think it'll be cool sharing some backstories on Marqise Lee plus hearing me groan about my Bruins getting ripped apart.