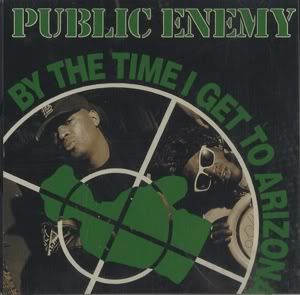 Arizona has a few black eyes on their record of civil rights. They were one of the last states to recognize the Martin Luther King Holiday, prompting a national outcry in the early 1990's (and a classic Public Enemy song). Now they have taken a horrible step backwards in the fight against immigration with this bill signed today by Governor Jan Brewer that pretty much allows for racial profiling in the search for immigrants.
From Section II of the bill, Article 8, Letter E of now revised Arizona state law regarding immigration:
"A LAW ENFORCEMENT OFFICER, WITHOUT A WARRANT, MAY ARREST A PERSON IF THE OFFICER HAS PROBABLE CAUSE TO BELIEVE THAT THE PERSON HAS COMMITTED ANY PUBLIC OFFENSE THAT MAKES THE PERSON REMOVABLE FROM THE UNITED STATES."
Basically this says, "If you look like you're an illegal Mexican, we have the right to arrest you." Reading the rest of the bill, it also says (paraphrasing of course) "You have to carry your paperwork to make sure you are legal or we can detain you until we find proof."
Being a Black man, I know exactly what this means. If you fit the profile, we have the right to hassle you and potentially detain you by reason of "probable cause." It's ironic that I was discussing this last night over dinner with some friends and now we have a state that pretty much legalized it for people of Mexican descent.
Let's get real. Immigration reform is a serious issue in this country. Businesses need to be punished for openly targeting immigrants for cheap labor and this bill does address that (there's a link to the full text of the bill in the article - 17 pages). Unfortunately, it declared open season on unfairly profiling people. Gov. Brewer said that training will be provided for officers but trust me, that's not gonna be enough.
It's not fair to target a whole group of people to reach a few. And anyone who's been a victim of being judged by how you look can relate to this.
I'm disappointed in Sen. John McCain for not speaking out against this. But hey, he's got re-election to worry about so why alienate the conservative GOP base that you've never been afraid of before? How'd that work out for you two years ago when running for President?
So congratulations, Arizona. You have created "misguided" legislature to quote President Obama and in the result, you deserve whatever hell you catch from Arizona residents and concerned people around the country.
Maybe we also need Chuck D, Prof. Griff, Flava Flav and the S1W's to threaten another trip to Arizona like they did before, update the message from nearly 20 years ago.
(DISCLAIMER: E-TV does NOT and will NEVER advocate the assassination of any public figure as depicted - I promote vigorous protest and healthy debate. But I make no excuses for Chuck D and Co. because their words speak for themselves.)