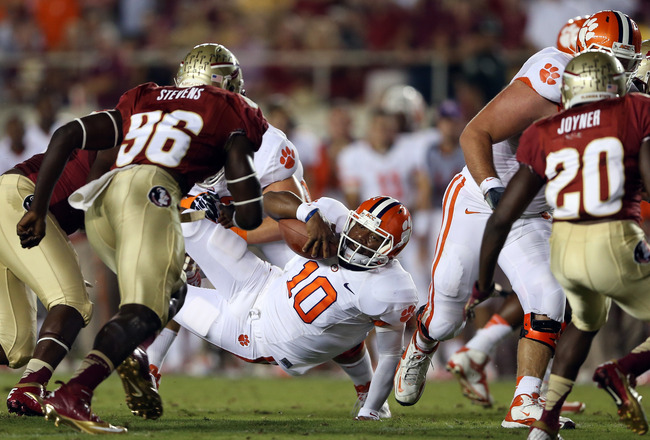 Seems like every year Clemson tries to convince me that I'm wrong. I'm wrong for doubting any of their success. But no matter how hard they try, they won't make these 3 words untrue.
Never. Trust. CLEMSON.
Clemson has followed this formula. Win great games. Get some national love. Get a prime time game and promptly find a way to crap the bed. Saturday was no different. Ranked No. 10, they faced No. 4 Florida State on ABC
and after taking a 31-28 lead in the third, they were gonna prove me wrong at my birthday bash.
Well an hour or two later, I checked my phone. Florida State won 49-37. Clemson gave up 21 straight points. 21!!! On national TV???? That sounds like some fraud business to me. And don't tell me FSU is that good because clearly they are. This is about those Tigers acting like kitties once again.
2009 – After a 6-game winning streak, they lose at No. 18 South Carolina. They go to the ACC Title Game and lose a close one to Georgia Tech, giving up a score in the final 2 minutes. They did win the Music City Bowl, if that helps.
2010 – A 6-7 season.
Nothing to be frauds about here. Just a bad year.
2011. Clemson starts 8-0 and rises to No. 5 in the country. They beat 3 nationally ranked teams in a row, first ACC team to ever do that. And then??
–
In true Tiger fashion, they lose at unranked Georgia Tech by 14. 2 weeks later, at 9-1.
–
2 weeks later, they get blasted 37-13 at North Carolina State, a team that ain't been worth a darn since Philip Rivers was QB. NC State scored 27 points in the 2
nd
quarter and 30 straight before Clemson kicked a meek field goal.
–
Once again, a loss at South Carolina (who were at least ranked at No. 12 this time). They beat Virginia Tech the next week to win the ACC Title but the wheels finally came off in brilliant fashion in their finale.
Goes to pull out the "Book of Beat Em Down!!" A classic with chapters like the 1991 Cotton Bowl, Super Bowl XX, Super Bowl XXIV, The Memorial Day Massacre and my personal favorite, UNLV v. Duke in the 1990 National Championship.
Jan 4, 2012. The ORANGE BOWL.
Against West Virginia. A date which will live in infamy for those of us who remember. A reading from the book of Beat Em Down!! (Preach, preacher!)
Verse 1 - Clemson allows a bowl-record 70 points!!! That's for ANY bowl game. An epic BEATEMDOWN in its own right. But wait, there's more!!!
Verse 2 – After leading 17-14 to start the first quarter, Clemson was outscored 49-3 over the next 28:13 of game time. That's almost two quarters of no work!!! (Lord, have mercy!!!)
Verse 3 – Clemson allows a bowl-record 35 points in the second quarter!!!! In total, they gave up 49 total in the second half!!! They were outscored 35-3 like Doug Williams was quarterbacking Super Bowl XXII.
In total, West Virginia set or tied 8 bowl game records on them. That goes in the Hall of Fame of beatdowns!! And you wonder why I call them some frauds!!! *does the Holy Ghost dance*
This says it all!
Don't know if that's all because Dabo Swinney isn't a consistent big game coach since he was hired in 2009 but some blame has to go his way. They haven't won too many big road games and when the lights are brightest, they find ways to lose games in an embarrassing fashion.
They have great talent. CJ Spiller's doing work in the NFL. Sammy Watkins might be the best all-around weapon in college football besides DeAnthony Thomas. But I will never trust that team to win a big game. So when I warn you, I do it for good reason.
Never. Trust. Clemson. Their basketball team is guilty too. They start fast and then get embarrassed in conference play. 2006 –They started 17-0 and ended up in the NIT.
Quick Tidbits

- Back to Florida State. I didn't realize EJ Manuel passed for 380 and ran for 102? Seminoles might be back and Manuel just replaced this guy below as the best dual threat to watch.
- Et Tu, Michigan? Why you'd have to go ahead and do that? Why you'd lose on national TV for the second time this month? Denard Robinson, you know I've shown you love here right? Why you gotta make your boy look bad throwing all them dumb INT's
- And worst of all, why did you give Notre Dame fans a reason to think they're relevant again? Ugh. I'll deal with the Irish later.
- Hey Oklahoma, come join Arkansas and USC as the latest Top 10 team to take a double-digit fall. Losing at home? Not a good look.
Oklahoma's another team that's got a little bit of fraud in them.
Bob Stoops is a good coach but he's been living off 2000 for way too long. They haven't been the same since USC crushed* them in the 2005 title game.
A man of few words, Alabama Coach Nick Saban might be repeating his victory speech for another month.
- Ho-hum. Another Alabama win. Another Beat Em Down! Poor Florida Atlantic. And I looked at the Tide's schedule.
They may not be challenged in a game until October 27 vs. Mississippi State.
Or LSU the following week?
- The Ducky Boys of Oregon can apparently play some defense now? They shut down one of the top offenses in the country. Public Enemy style. 49-0.
*Yes, I know technically that Orange Bowl win was vacated but I know what my eyes saw. I saw Oklahoma get the living crap kicked out of them by Matt Leinart and Steve Smith.