Cue the Hank Williams theme song. Break out the jerseys cause it's time for the return of football and I'm finally in football mode. I resisted the urge while the Dodgers were busy running the majors but now that the Angels are SoCal's best and the Blue Crew's in a tight pennant race, I can get ready for some foosball (c) Mamma Boucher from "Waterboy"
And I even resurrected the Virgosis Sports Report for it.
Next weekend is big for me. Friday the 4th, I'll cover one of the biggest HS pre-league football games in the state (Lakewood at Crenshaw). Saturday the 5th we get ready for Year 2 of the Rick Neuheisel era at UCLA and USC's Pete Carroll handing the keys to a freshman. Then Sunday the 13th , I get ready to wear my L. Tomlinson jersey hat with my Cowboys hat with the return of the NFL.
(Yeah, in case y'all
forgot
, I rep two teams equally. My first love, Dallas, and the team I grew to love in college, San Diego. You got beef? Step up to the grill and kicked in the teeth)
And to show how football crazy I am, I'm in three fantasy leagues on CBS Sportsline, ESPN, and the league I started with last year on Yahoo. Peep my ESPN lineup where I actually was there instead of ghost-drafted, I really like this more than my Sportsline crew. I'll fill you in on that Yahoo team when our draft starts next week.
(QB - Philip Rivers; RB - DeAngelo Williams, Brandon Jacobs; WR - Marques Colston, Anthony Gonzalez, Braylon Edwards; TE - Chris Cooley; K - Jason Elam, Vikings defense/Special Teams......and peep the bench. My sleeper Felix Jones, Kyle Orton (uh oh), Lance Moore, Miles Austin, Jamal Lewis, Lawrence Tynes and Philly TE Brent Celek (booooo Eagles) )
Man's team right there. Gonna crush my Twitter fam on the evil 4-letter and then get back to spreadin good cheer afterwards. But anyways on to college.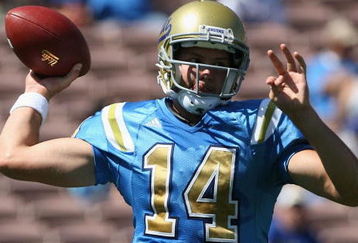 UCLA's horrible season last year is hoping to rebound with a better defense and a new QB in redshirt freshman Kevin Prince (who hasnt played a game in 2 years). But the stars on gonna be on defense with junior Brian Price anchoring that front line, senior linebackers Reggie Carter and Kyle Bosworth roaming around and secondary with Alterraun Verner and sophmore Rahim Moore.
Meanwhile USC announced today they're handing the keys to a Top 10 program to last year's Golden Boy, freshman Matt Barkley. Mainly because frontrunner Aaron Corp hasn't recovered fully from his broken leg, Barkley will be the first true frosh ever to start at USC. I like the kid, saw him play a couple times the last 2 years, but the hype around him needs to go. He's a good QB with a great arm but so was Jimmy Clausen in 2006. Ask Notre Dame about that.
Anyways, they still have a surefire pro in All-American safety Taylor Mays, a great stable of running backs (Stafon Johnson, Joe McKnight and CJ Gable along with a lively Marc Tyler) but have to replace their linebacking corps. I think they are more of a Top-10 team instead of Top-5 but anything can happen.
Don't get me started on Florida and Tim Tebow (already said my peace about him
here
) but I will say that if Percy Harvin came back, they'd be a unanimous No. 1 instead of a near unanimous No. 1. I still think all SEC teams are kinda sketch for not playing tougher non-conference schedules compared to the Big 12 and Pac-10 but thats just me. On to the pros.

Remember the name - Felix Jones. He showed glimpses of what he could do last year for Dallas before he got hurt and I think he'll be just as valuable as Darren Sproles with the Chargers. A good change of pace guy that'll extend Barber's career. My hope is that Norv Turner does that with Sproles to keep LT fresh - he's not washed up yet IMO.
To me the Chargers are what the Cowboys should aspire to. A mature QB in Rivers (Romo - im watching you closelsy), a solid dual-threat running attack in LT and Sproles (a younger combo with Barber and Jones), a great defense anchored by a beast and a coach who overachieves despite a history of failure (Wade Phillips - use your magic on that stellar D or else)
I love the start of football because we usually do a great issue in our paper. My high school blowout is gonna be nice and for those of you in Cali reading this, look for Lakewood, Crenshaw, Taft, Narbonne, Servite and Oaks Christian to have great years. I really love Gardena Serra too so if you love high school sports, you have a friend here.
So it's gonna be "Friday Night Lights as the first wave, "Saturday College Fever" and then NFL Sundays. I love it and wouldnt have it any other way. I'm gonna bring back the Virgosis Sports Report on Mondays to recap the football weekend.
(EDIT: Just realized the NFL season starts on Sept. 13 - guess I need to read better)