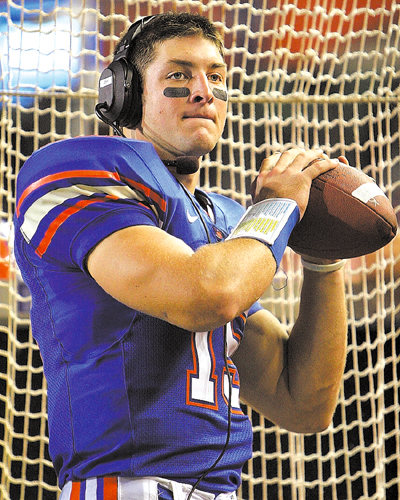 I wrote this in January after Florida won the national title in my personal journal but with college football practice heating up and everybody on the SEC's nuts (what's that? the Big 12 has 3 Top-10 teams and two Heisman favorites? Sorry, we dont see you) - I had to bring some sanity to this by tweaking/updating my piece.
One of my favorite bloggers/sportswriters Dan Shanoff is an admitted Florida fan and
his love
for Tim Tebow is starting to bug me. I mean he's seriously trying to convince himself that Urban Meyer and Tebow will be on the Patriots in his own fantasy. GTHOH!! Steve Spurrier didn't vote Tebow on the All SEC First Team and everybody was like "How dare you not vote for St. Tebow." Pssssh, please (c) Ozzie Guillen.
I can't blame the media and people who ball-wash No. 15. I like Tebow's heart. I like how he can pass and run and is dangerous cause he's a lefty. I admire that he's a man of faith who isn't ashamed to talk it and walk it. The dude has a great work ethic and his now legendary speech was powerful and inspiring (maybe not deserving a plaque yet, but eh).
But I am kinda mad that people credit him with leading Florida to two titles. Funny, I recall Chris Leak being the QB during the first title and Tebow was the specialist backup as a freshman. Thom Brennaman sucked him up so bad during that national title game last year, I almost wished Pat Summerall was calling the game in his droll tone. Seems to me the media needs to listen to "Jesus Christ Pose" by Soundgarden.
So where does Tim Tebow rank all-time? Before we jinx him like we did USC in 2006 by anointing them the greatest team ever (Real football fans know the 2004-05 USC team was much better and the 2001 Hurricanes were the best of the decade), let's remind people who the best of the decade are. As if punks forgot who was running this decade over here near Exposition Park.

1, Reggie Bush – the most electrifying player I've seen in my 10 years (6 watching it closely) of watching college football. Dangerous in three ways (running, receiving, and return specialist) although he's only glimpses of two in the NFL. Candidate for Top 50 college player ever.

2. Vince Young – Two of the best Rose Bowl performances I've ever seen and simply put a taller, better passing version of Michael Vick. USC is still shaking over trying to bring him down.

3. Matt Leinart – Arguably the best pure passer this decade. A three-time All-American who just dissected Oklahoma in the 2005 title game. The king of L.A. but a great football player despite getting caught up in his fame and playing behind Kurt Warner. 1 Rose Bowl win, 2 national titles (Orange Bowl), 34 game-winning streak. Tebow ain't seeing him

4 (tie) Adrian Peterson/Tim Tebow – In his first year, A.P. was already being compared to Herschel Walker and for good measure. The first true freshman to finish runner-up in the Heisman voting, he was a bruising runner that was a beast for teams to tackle and set many records on his way to an All-American year. His last two years were hampered by injuries which is why he's not the clear No. 4 and could arguably be behind Mr. Tebow.

5. Darren McFadden - Almost forgot about D-Mac. Special, special running back . Two-time All-American, Two-time runner up for the Heisman. Speed and power just like A.P. except he excelled as a sophomore/junior. Tebow could arguably be behind him too but the rings move him up.

Here's Tebow's resume: 2 national titles, the first sophomore to win the Heisman Trophy, a good arm, mobile, a Top 3 Heisman finalist ranking this year. He's an electrifying player to watch and he defines leadership. As a dual-threat QB, he may not be as fast as Steve Young but he's a winner and that's how we judge QB's.

A lotta folks bring up the Christian Laettner comparison with him - White Boy everybody loves to hate cause they win. Let's review. Laettner was a starter on a Final Four team as a freshman, got recognition as a sophomore in the NCAA Tournament, a two-time All-American/national champion his final two years. Yeah, sounds familiar? How bout the fact that he's clutch and cocky.

Laettner is regarded as one of the best college players ever although he flopped in the league. So by that logic, Tebow should be one of the best right? Not by this man's logic. A better comparison with Tebow is Tyler Hansborough - a great, hard-working college basketball player who is arguably one of the best of the decade, but not all-time.

Of course, the pink elephant in the room is that Tebow is being uplifted because of race. The quarterback has long been the most glamorous position in football and it's mostly been White guys who have been seen and praised by many. And let's throw in the commonly held belief that when White players show emotion it's heart but when Black players do it, it's something negative by some.

It's not only possible, I believe it's true to an extent but for the sake of this convo, let's stick to resumes and facts. That's a whole nother can of worms I can open later and the media isn't praising him because he's White - they typically overpraise hard-working players who happen to be White because they've been doing that since sports journalism started. It's a habit that irks people because it underrates athleticism and slights other players with similar tendencies.

Anyways, Tebow is one of the most decorated players in college football and by far one of the most decorated QB's. But just because he is among the best of the decade doesn't mean we can rank among the best ever just yet. Don't get hooked by the media, Tebow is an amazing person and a great quarterback and one of the best players this decade, but not one of the 10 greatest college QB's ever.